advertisements

This is a step-by-step guide to download vShare iOS 9 without jailbreak. Since no jailbreak is required, you can do it on iPhone 6, iPhone 6 Plus, iPhone 6S, iPhone 6S Plus, iPad Pro, iPad mini 4, iPad Air 2 or any Apple device that is running iOS 9.0.1. For those who are running iOS 8 – iOS 8.4 and already jailbreak with TaiG jailbreak tools, you can follow this guide to download vShare repo iOS 8. Instead, you can get your iOS 9 device ready and follow these few easy steps to download vShare iOS 9.
How to Install vShare on iOS 9 without Jailbreak
This is a 6-step guide to install vShare on iOS 9 without jailbreak. However, you can still follow these steps to download vShare on your iOS device even you are running iOS 8.4 without jailbreak.
Step 1: Open your Safari browser and enter vShare official address, vShare.com.
Step 2: Just wait for the website to load up and you will see 2 huge buttons – Download (Unjailbroken) and Download (Jailbroken). Tap on Download (Unjailbroken) to download vShare with no jailbreak.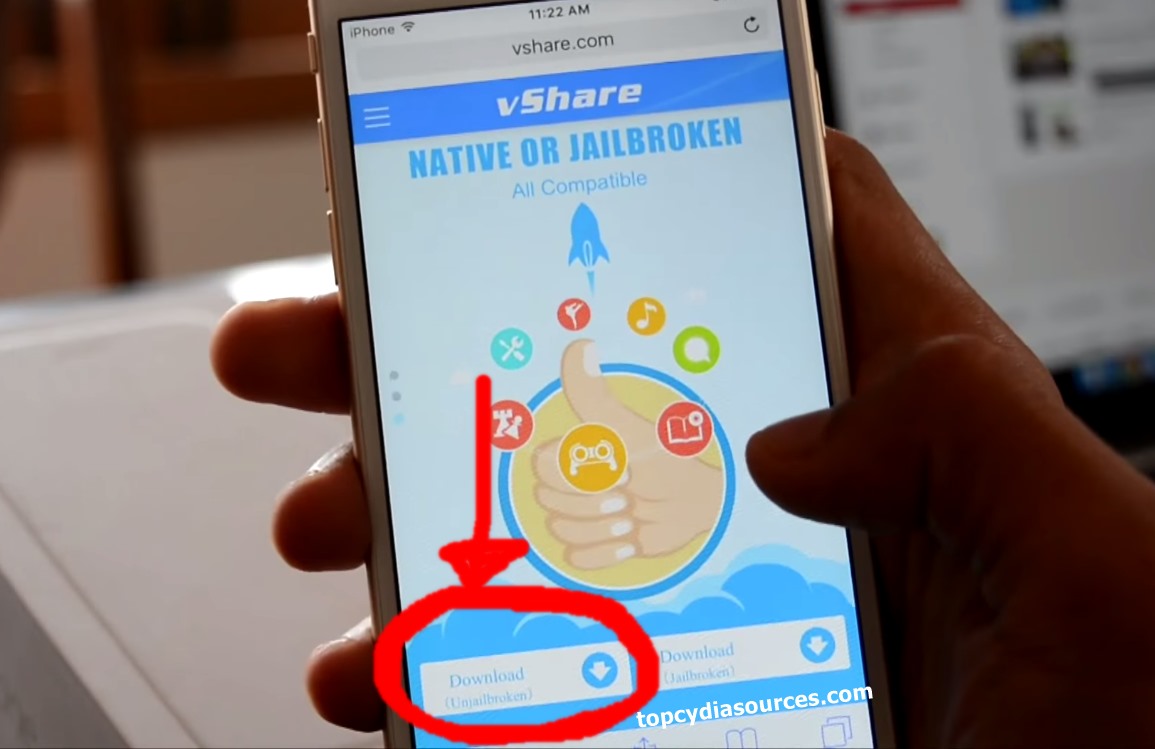 Step 3: A message will pop up: ssl-api.appvv.com would like to install "vShare". Just tap on Install to continue the installation.
Step 4: Go back to your home screen and you will see vShare is installing. It usually takes less than a minute but it could take more than 5 minutes if your internet connection is slow.
Step 5: You should be able to see vShare icon appear on your home screen once the installation is completed. Tap on it to open vShare. Usually, you will get an error message as below. Tap on Dismiss.
Untrusted Enterprise Developer
"iPhone Distribution: Guangxi Materials Group Co., Ltd." Has not been trusted on this iPhone. Until this developer has been trusted, their enterprise apps will not be available for use.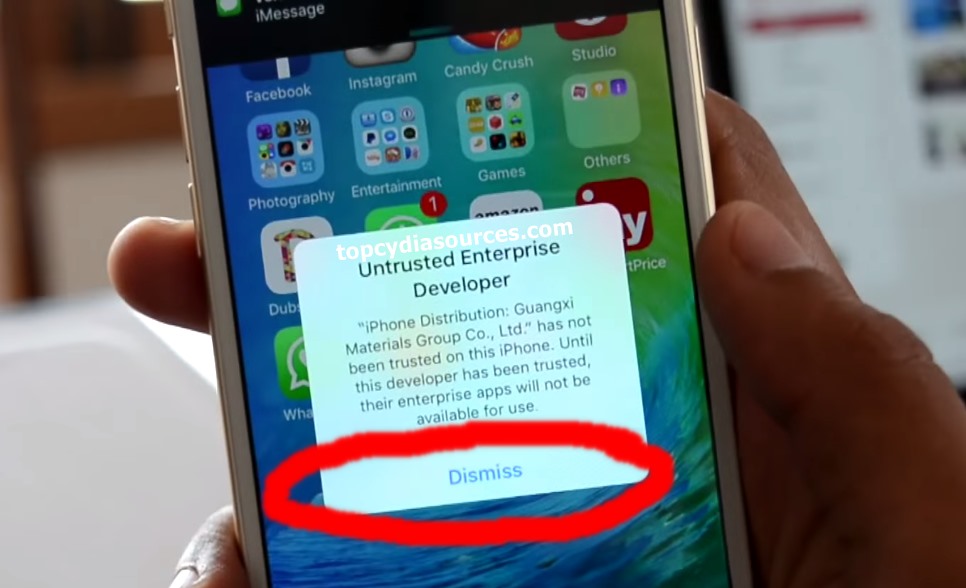 Step 6: In your iPhone, iPad, or iPod Touch, go to Settings -> General -> Profile. Select Guangxi Materials Group Co., Ltd and tap on Trust. You should be able to run vShare 3.1.1 on iOS 9 without any problem with no jailbreak needed. If you can't find the trust button but just cancel button, respring your iOS 9 device and you should be able to see it.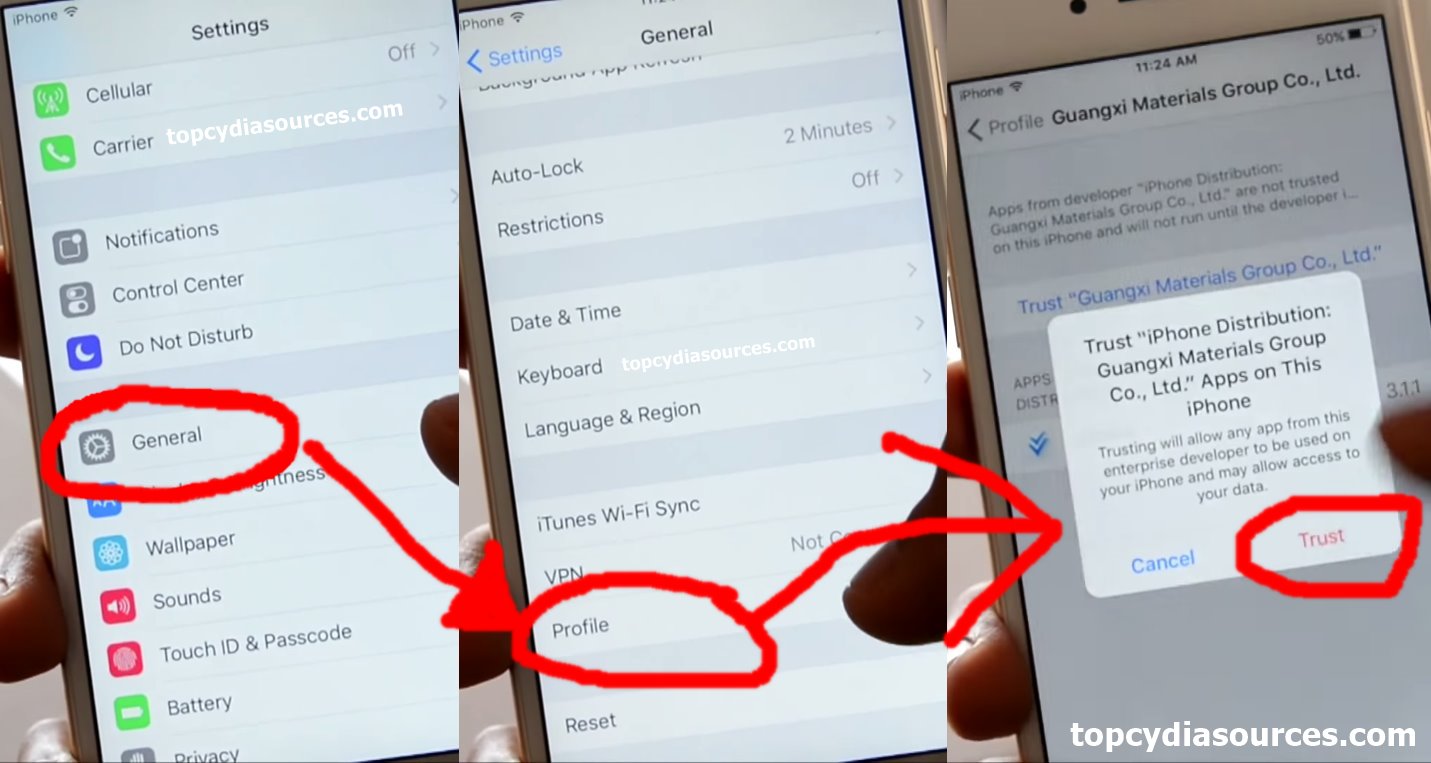 vShare alternatives on iOS 9: Kuaiyong, AppCake, and AppAddict. Kuaiyong and AppAddict has been proven to run on iOS 9 and iOS 9.0.1 without jailbreak. Both of them are comparable to vShare because Kuaiyong also provide hundreds of cracked apps for iOS 9 devices. If you are going to try Kuaiyong, make sure you download Kuaiyong English version otherwise all the buttons will be in Chinese.
As iOS 9 jailbreak is still not available, vShare is one of the best free ways to get cracked apps without jailbreak. With vShare, you can install Movie Box to iPhone or iPad without jailbreak. If you face any problems while download vShare on iOS 9 devices, please leave a comment here and Cydia community here will get back to you as soon as possible.
advertisements