advertisements

Hackulous has been gone for almost a year and it is essential for jailbreak users to know where to source for cracked apps. While Hackulous is vanished, it brings away its most sought-after app that allows jailbreak users to download paid apps for free – Installous. When the door of Hackulous is closed, no one is able to install free apps from Installous. In the past, various apps were available in Installous a few hours after their official release. Well, that's about a year ago and we should look forward now. There are actually a few awesome Hackulous alternatives that work even better than Installous. Some of them like Kuaiyong allow iOS users to install cracked apps without jailbreak. Yes! You didn't read it wrong, the free apps community in China did that and it is now one of the most popular Installous alternatives. Let's take some time and see some of the top Hackulous alternatives.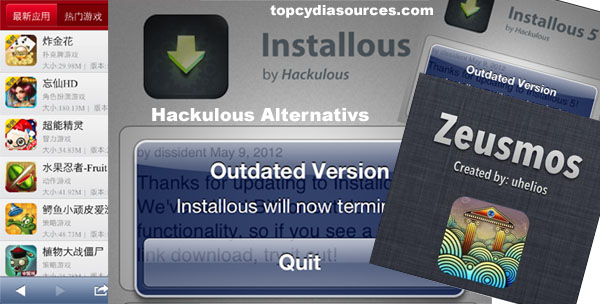 Kuaiyong
Kuaiyong is now the most popular alternatives to Installous users because of its capability to install apps on non-jailbreak iOS device. It supports Windows Vista, Windows XP, Windows 7, and Windows 8. User can use Kuaiyong Quick Install application to install free apps to iPhone, iPad, and iPod Touch with iOS 4.0 or above through a PC. Thousands of free apps can be found at Kuaiyong within a click.
Zeusmos
Besides Kuaiyong, Zeusmos is now another famous name you will constantly hear from technology related website. This app also allows you to install apps without jailbreaking your iOS device. Isn't it Awesome? Many iOS users would love to get free apps but they don't prefer jailbreaking their device due to warranty issue. With Zeusmos, you can now download free apps without any worry.
AppCake
AppCake has been in the market for quite some time even before Hackulous. Within 6 years, thousands of free apps have been added to the database to bring advantages to their users. AppCake provides not just free apps but also games to iOS and Android users. This awesome app can be installed within three minutes through Cydia.
Pandaapp
It is a little bit frustrating to use Pandaapp but it is without doubt a good way to install cracked apps. Users require to download the IPA file of a wanted app from Pandaapp and then transfer it to their iOS device through an SSH program from their computer.
AppAddict
AppAddict is one of the easiest methods to install cracked apps to an iOS device. A step by step guide has been taught before and all it takes is four simple steps to install a free app on an iOS device. Try it today before it's too late.
Other alternatives to Hackulous: HipStore, iFunBox, and vShare.
Disclaimer: Topcydiasources.com does not support piracy. This article is mainly for Educational purpose only. It serves as a piece of information to readers who look for Hackulous alternatives. The idea of having cracked apps is to give a favor a potential buyer to "test before buy". Some apps do give a trial period to their customers while some did not. That is the reason why we have cracked apps. It is good to test an app before buying it, and it is even better if you pay for it after testing.
advertisements