advertisements

It is essential to know how to install AirBlue Sharing on iOS 7 devices if you want to send or receive files using Bluetooth on your iPhone, iPod Touch, iPad Air, and iPad Mini Retina. AirBlue Sharing iOS 7 is a free Cydia app and it can be downloaded from HYI repo source for free. This Cydia tweak has been tested on iOS 7.1.1 as well as iOS 7.1.2. It works faultlessly on both iOS versions therefore it is greatly recommended to all jailbreak users who have installed Cydia in their iOS devices.
The latest AirBlue Sharing version works on iOS 7, iOS 6, and also previous iOS versions. A jailbreak user can use it to transfer files, music, images, PDFs, Word, video, and many kind of files from one iOS device to another. With AirBlue Sharing installed, you can transfer a file from an iOS 7 device to another iOS device that is running on iOS 6. Other than that, you can also use the Bluetooth feature to send file to and from an iOS device to and from laptop, desktop, or other Android phones or tablets such as Samsung S5, Blackberry, or Nokia phones that comes with Windows OS. Isn't it an awesome Cydia app?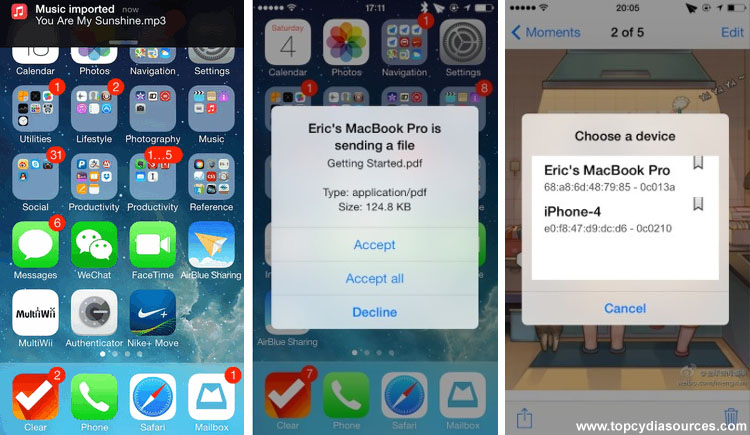 AirBlue Sharing iOS 7 Screenshot
How to Install AirBlue Sharing iOS 7.1.2 – 7.1.1 for Free
Thanks to Eric Day who developed such a wonderful app, you can now install AirBlue Sharing on iOS 7.1.1 and 7.1.2. This means the latest iPhone 5S, iPad Air, and Retina iPad Mini 2 are able to use this app. Of course, such a wonderful app doesn't come with $0 price tag. AirBlue Sharing is not a free app but there is a way to download and install the cracked version. In other words, you can still install AirBlue Sharing for free. Follow this step by step guide and you will get it for free.
Step 1: First of all, make sure your iOS 7 device is jailbroken. You can't install AirBlue Sharing cracked version on a non-jailbreak device. You need to download Cydia to your iOS device too.
Step 2: Launch Cydia and go to Manage and Sources. On top of the screen you will see an Edit button. Tap on it to continue.
Step 3: Tap on the Add button. You will see a message box "Enter Cydia/APT URL". This is where you need to add the Cydia repo that hosts AirBlue Sharing cracked version. Enter HackYouriPhone repo which is repo.hackyouriphone.org and tap Add Source to continue.
Step 4: Go to HackYouriPhone repo once the installation is done. Search for AirBlue Sharing iOS 7 and tap on it to install. Make sure you get the updated version so that it works on iOS 7.1.1.
You might be interested to see: LinkStore iOS 7 is Perfect to Install Cracked Apps
Above are the four simple steps to install AirBlue Sharing iOS 7 for free. Please leave a comment if the cracked version is not working for you. You may also leave a comment if you are using it on your Apple product. Last but not least, it is also suggested to buy it from the official repository as a respect to the developer.
advertisements