advertisements

ZodTTD is one of the most popular default Cydia sources among BigBoss, Telesphoreo, ModMyi, Dev Team. ZodTTD & MacCiti repo will be added automatically to your iOS device when you jailbreak and install Cydia. For some reasons, a lot of people had deleted ZodTTD repo by mistakes and they would like to add it back. It is not vital to have this repo because Cydia will work as usual without it. However, ZodTTD has some unique apps and it is a must to reinstall ZodTTD repo because it allows you to play different kind of games on an iPhone. Besides, it also serves as an important Cydia sources for free themes, ringtones, wallpapers, mods, and tweaks. Here are some easy steps to restore accidentally deleted ZodTTD repo on iPhone, iPad, or iPod Touch. You can also follow these steps to add ZodTTD & MacCiti source to your iOS device if they did not appear in your iOS device after jailbreak.
Steps to Reinstall ZodTTD Repo
There are three methods to reinstall or re-add ZodTTD repo if it was deleted accidentally. First of all, each method require no programming skills and takes only a few minutes.
First method: Re-add ZodTTD repo in black slash directory.
Go to black slash directory and access private/etc/apt/sources.list.d.
Open it with a text viewer and edit it.
Add this line to the file "deb http://cydia.zodttd.com/repo/cydia/ stable main"
Done!
Second method: Add it from Cydia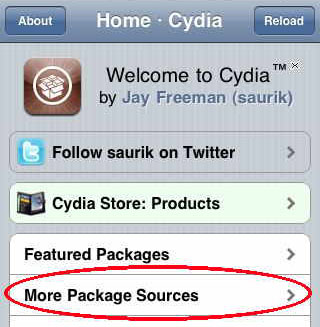 Open Cydia and tap on More Package Sources.
Under the Default Sources, you should be able to see BigBoss repo, ModMyi repo, and ZodTTD & MacCiti repo.
Tap on ZodTTD repo. A message box https://cydia.saurik.com Add Source ZodTTD?
Tap on Add to continue.
Third method: Add ZodTTD repo from Cydia
The third method is very simple too. It is like how you add MyWi repo and ModMyi repo from Cydia.
Open Cydia and go to Manage -> Sources -> Edit -> Add.
Enter ZodTTD repo which is http://www.zodttd.com/repo/cydia/ to "Enter Cydia/APT URL" text box. Try another URL which is http://cydia.zodttd.com/repo/cydia/ if the first URL is not working for you.
Tap on Add Source to add ZodTTD repo.
Tap on "Return to Cydia" once the repo is added successfully.
For Windows and Mac users, you may scan the following QR code from your device to get ZodTTD & MacCiti source.
These are the three easy methods to reinstall ZodTTD if it is deleted. You can always reinstall default Cydia sources such as BigBoss and ModMyi with the same method if it is deleted.
advertisements