advertisements

From iOS 7 to iOS 8 to iOS 8.3, AppCake is without doubt one of the best Installous alternatives on this planet. AppCake has almost everything you can find in Installous. On top of that, AppCake has something we don't see in Installous app – the ability to install Cydia apps without jailbreak. Unlike Installous, AppCake allows an iOS users to install the iPA files of an app or game in order to run it on an iPad or iPhone. In other words, AppCake allows you to run cracked apps and cracked games without jailbreak. This is simply amazing, isn't it? Today, AppCake has proven to be one of the best apps for both iPhone and iPad users. If you are interested to hunt for free apps but wondering how to add AppCake repo to your iPad, follow the step by step tutorial here. A beginner can complete this task in just five minutes.
How to Add AppCake Repo to iPad
Before you begin, it is vital to know that jailbreak and Cydia are both a need in order to add AppCake repo to your iPad. Therefore, you will need to jailbreak your iPad, iPad 2, iPad 3, iPad 4, iPad Air, iPad Air 2, iPad mini, iPad mini 2 or iPad mini 3 before taking the first step.
Step 1: Now you already have a jailbroken iPad, the first thing to do is download Cydia to your iPad. Follow the guide here to download Cydia on iOS 8 if your iPad has updated to the latest iOS 8.3. On the other hand, follow the tutorial here to download Cydia on iOS 7 if you are using iOS 7.1.2.
Step 2: Tap the brown Cydia logo to open it. Tap Manage (located at bottom) -> Sources -> Edit (small button located at top right) -> Add (small button located at top left). See How to Add a Cydia Repo for more detail guide with pictures.
Step 3: Once you tap the Add button, an Enter Cydia/APT URL message box will appear. This is where you need to enter AppCake repo. Type http://cydia.iphonecake.com and tap Add Source.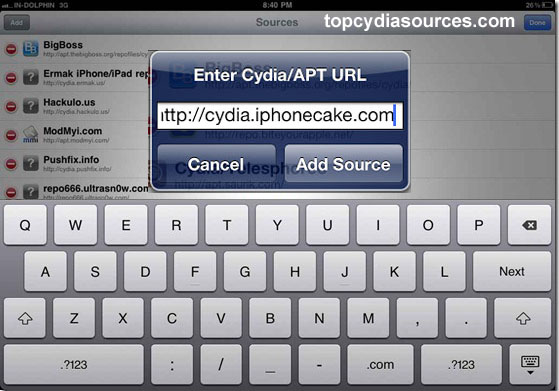 Step 4: Let your iPad verify AppCake repo URL until you see a source warning message appears. Tap Add Anyway and then tap Return to Cydia.
Step 5: Again, go to Manage -> Sources and tap on iPhoneCake. iPhoneCake is a repo that host AppCake. At the search bar, enter AppCake and search for it. You will see AppCake+ and AppCake+ HD. If you are using the latest iPad 4, iPad Air 2, iPad mini 3 or any iPad with HD screen, install AppCake+ HD. Instead, install AppCake+ if you are using older iPad without HD screen.
Step 6: Reboot your iPad once the installation is done. Go to your Springboard and you should be able to see AppCake icon there. If you don't see the icon, it means AppCake is crashed during the installation. Repeat step 1 to step 6 if AppCake is not working on your iPad.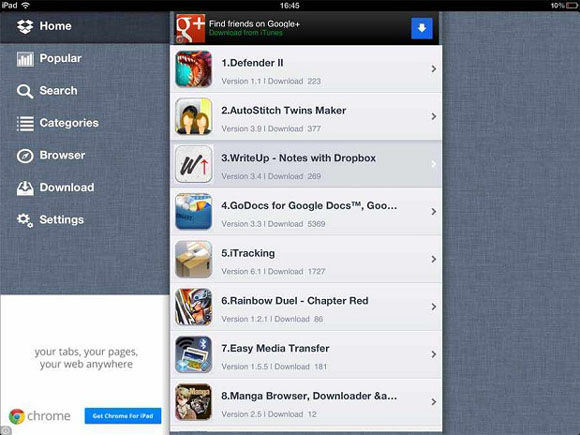 advertisements