While the jailbreak for iOS 7 was released a few months ago, download Cydia on iOS 7 is no longer something hard to do. There are a few known issues when Evasi0n7 was just released. Some Apple users experience a stuck on the Apple Boot Logo after they jailbreak their iOS 7 device. Some users also report that their devices are failed to install Cydia on iOS 7. With many over the air updates available from Evasi0n7, you can now download Cydia to iOS 7 easily. Now this is the sweetest method to download Cydia on iOS 7 device. Follow the step by step guide and you can download many free Cydia apps.
How to Download Cydia on iOS 7
Before you begin, you will need to prepare a computer. Mac or Windows works fine. Connect your computer to the internet and download a SFTP (Windows) or SSH (Mac) program. As for window users, you may consider Filezilla, FireFTP, CoreFTP LE, BitKinex, WinSCP, or Swish. On the other hand, Cyberduck is highly recommended to Mac users. Install the program to your computer and you are ready to download Cydia to your iOS 7 iPhone, iPad, or iPod Touch.
Step 1: It is a must to jailbreak your iOS 7 device although there are many tutorial saying you can download Cydia without jailbreak. Cydia will not work on any non-jailbreak iOS 7 devices. Obviously, Evasi0n7 is the best choice for now. It works well on iOS 7.0 or iOS 7.0.x. Evasi0n7 jailbreak comes with an option to install Cydia on iOS 7 automatically. Check the checkbox during your installation and you will get Cydia once the jailbreak is done. However, if you don't see the option, continue to step 2 to download Cydia manually.
Step 2: Now you have to download the latest Cydia DEB file. Open a web browser and go to apt.saurik.com/cydia/debs/. The latest available Cydia DEB file is cydia_1.1.9_iphoneos-arm.deb. An easy way to search for the latest DEB file is to press Ctrl + F, then enter "cydia". You will see many similar file but you only need to download the latest one. Date and time are clearly stated beside the file. Click on it to download it into your computer.
Step 3: Connect your iOS 7 device to your computer using USB cable. SSH the Cydia DEB file into your iOS 7 device. Place it to /private/var/mobile/documents/.
Step 4: Now go to the same path in your iOS 7 device. The DEB file should be there. Tap on it and you will see ZIP Viewer, Unarchiver, and Installer. Tap on the Installer to install Cydia. Let the installation run until you see a Done button. Once it is done, reboot your iOS 7 device and you are ready to use Cydia. The first thing to do? Download AppSync and try iSpazio!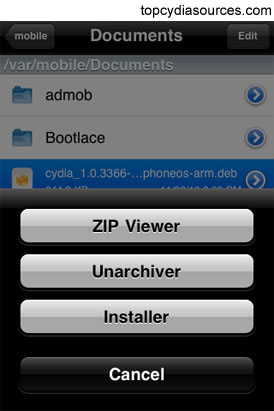 These four step guide to download Cydia on iOS 7 has been tested on the latest iPhone 5S, iPhone 5C, iPad, and iPod Touch. All of them are running iOS 7.0.x. It works flawlessly and you should try it out too.