advertisements

Movie Box app or MovieBox app is a free app available in the Cydia App Store. It is purely made for movie fans to enjoy free movies on their iOS devices such as the iPhone, iPad and iPod Touch. Whether you are running on iOS 8 or iOS 7, you are able to download Movie Box app and watch any movie you want as long as the movie is available for free. In addition to movies, you can also download and watch the latest music videos or TV shows from this app. In other words, Movie Box app works like a magic DVD player on your iOS devices.
There are two options to use Movie Box on an iOS device. You can either stream the movie or download it to your iOS device and watch it later. The better choice is to download it to your iOS device and watch it later because movie streaming is always slow. Feature wise, Movie Box app allow you to select any subtitles you want if the movie has preloaded with different kinds of subtitles such as English, Chinese, Italian, Japanese, Spanish and many other languages.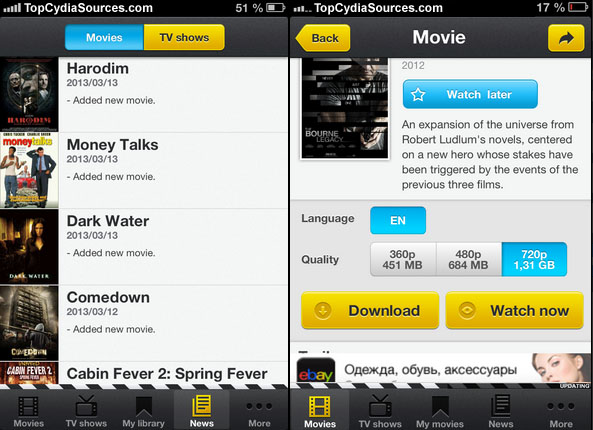 How to Download Movie Box from Cydia
This is a universal method to download and install Movie Box on iPhone, iPad, iPod Touch and Mac. The latest Movie Box version is compatible with iOS 8.1.3 or any older iOS versions. Follow the steps to download Movie Box now and watch any movie instantly.
Step 1: Tap on your Cydia icon to launch Cydia.
Step 2: Just like how to add a Cydia repo, Go to Manage -> Sources -> Edit -> Add.
Step 3: Cydia will prompt Enter Cydia/APT URL. You can enter any Cydia sources for Movie Box app if you know a trusted one. Otherwise, you can add BiteYourApple repo.
Step 4: Tap on Add Anyway when Cydia prompt you the Source Warning message.
Step 5: Go to BiteYourApple repo once it is added. Search for Movie Box or MovieBox. Tap on it to download and install Movie Box to your iOS device. You should be able to see Movie Box icon appear on your home screen within a minute. Tap on it to launch the app and you can start to watch unlimited HD movies, TV shoes or music videos for free.
Download Movie Box without Jailbreak
Except going through jailbreak process and download Movie Box app with Cydia, there is another way to download this movie app without jailbreak. You can go to iPAWiND, search for Movie Box or MovieBox app and download it straight away to your iOS 8 or iOS 7 devices. Otherwise, you can simply download Movie Box app IPA file and use iPAWiND to sign the apps on your iOS devices to make it work. Here's how you should install Movie Box without jailbreak.
Step 1: Go to Settings -> General -> Date & Time. Set the date to September 1, 2014.
Step 2: Download Movie Box IPA file.
Step 3: Tap on the Install button to install Movie Box app on your iOS device.
Step 4: Tap on Movie Box icon to launch the app. Tap on Trust when the "Untrusted App Developer" message is appear.
Step 5: Now you can set your Date & Time back to "Set Automatically".
Movie Box is a good Cydia tweak that works on jailbroken iOS device and iOS device without jailbreak. It has been tested on iPhone 6, iPhone 6 Plus, iPhone 5S/5, iPhone 4S/4, iPad Air, iPad Mini and iPod Touch. Share us your thoughts about Movie Box with the comment feature below if you are having problem installing it.
advertisements