advertisements

OpenAppMkt is not a household name in iOS world but it is definitely one great alternative to the Cydia App Store as well as Apple App Store. OpenAppMkt has been in the market for a few years and it offers a wide range of free apps and tweaks for iOS devices from A to Z. Basically, whatever you see in App Store and Cydia App Store is available in OpenAppMkt. OpenAppMkt is a HTML5 based web apps and most of the apps available in the server can be installed to an iPhone, iPad, and iPod Touch without jailbreak.
There are a lot of online information give the wrong idea about installing apps from OpenAppMkt without jailbreak. Many people think it is possible to download Cydia apps to an iOS device without jailbreak which is wrong. Well, the true meaning of "install" an app from OpenAppMkt means installing a Safari bookmark on your home screen. Once an app is "installed", you can hit on the bookmark and the program will lead you to the OpenAppMkt web app. From there, you will be able to use the web apps. In other words, installing an app from OpenAppMkt won't install anything to your iOS device but just a bookmark that will lead you to OpenAppMkt web application.
How to Install OpenAppMkt
To make things clear, you will first have to understand that installing OpenAppMkt means adding a Safari bookmark of the site to the home screen of your device. It doesn't install any program, applications, or software to your iOS device. To install OpenAppMkt, simply open a Safari browser and enter the URL http://www.OpenAppMkt.com/. Just follow the installation guide and you will get OpenAppMkt within a few seconds.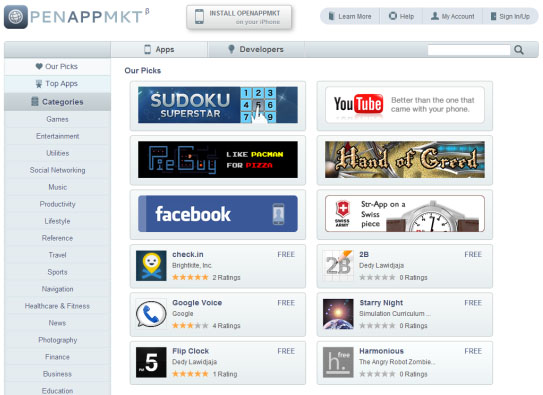 Good things about OpenAppMkt
Remember Steve Jobs was once encouraging developers to create web apps that could be used through the device's mobile Safari web browser? An obvious advantage of having web apps is that any iOS device can run any apps they want without jailbreak. Be it iOS 6, iOS 7, or even iOS 8, any web apps can be run on them without jailbreak. That is one reason why OpenAppMkt is receiving a lot of supporters.
See also: How to install cracked apps with AppAddict
Bad things about OpenAppMkt
In some opinion, web apps are not convenience compared to Cydia App Store. What if the internet connection is slow? Downloading an app from Cydia app store allows you to fully own the app in your iOS device. You can use it anytime you want even the internet connection is slow.
See also: Download Kuaiyong and Install Free Apps without Jailbreak
If you ever head over to OpenAppMkt, you will notice the number of apps is growing from time to time. In conclusion, OpenAppMkt is yet another great Cydia alternative or even the App Store because it requires no jailbreak to use any apps.
advertisements