advertisements

There are thousands of Cydia tweaks have been introduced from 2014 to 2015. Cydia app developers keep providing the best Cydia tweaks for iOS 8, iOS 7.1.2, iOS 7 as well as iOS 6 for the past years. Unlike a food recipe, a Cydia tweak will be expired. The best Cydia tweak that was introduced in November 2014 may no longer as exciting as it was in December 2014 especially when there is a better app introduced. It has been a few months since we welcome 2015, thus, it is time to gather all the feedback from Cydia users from around the world and list again the Top Cydia tweaks for iOS 8, iOS 8.1, iOS 8.1.1, iOS 8.1.2, iOS 8.1.3 and iOS 8.2.
Top Cydia Tweaks for iOS 8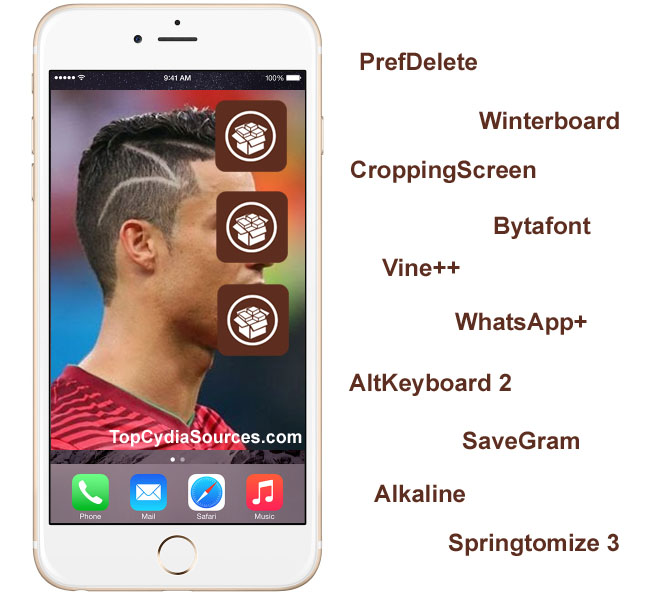 1. Springtomize 3
Springtomize has never let any iOS user down since the released of Springtomize, Springtomize 2 and the latest Springtomize 3. Without doubt, it is a must-have Cydia tweak for jailbreak users who would like to customize your own iPhone, iPad and iPod Touch. This tweak simply allows you to customize the lockscreen, springboard, control center, status bar, notification zone and many other interfaces. To install this app, you will need to add the BigBoss repo.
2. Alkaline 
Alkaline is one of the best Cydia tweaks you can download for free from ModMyi repo. This awesome app allows you to customize the icons on your status bar. If those standard icons are ugly to you, change it. You can change almost everything on your status bar such as the battery, Bluetooth, Wi-Fi and etc.
3. SaveGram
SaveGram is definitely the best Cydia tweak for those who love photos especially Instagramers. This tweak doesn't come with any fancy features and what it does is to allow an iOS user to save photos from Instagram. With SaveGram, all you have to do is tap on the photo and save it into your library. You don't have to go the traditional way – Screenshot and save. To install this app for free, you will have to add one of the top Cydia Sources, BigBoss repo.
4. AltKeyboard 2
If you are looking for an app to speed up your typing or text editing work on your iOS, AltKeyboard 2 is the one of the top Cydia tweaks for you. Install this app and you can switch your keyboard from alphabet to numbers to symbol with just a swipe over the keyboard. It definitely speed things up with some other features such as copy and paste. To install AltKeyboard 2 or AltKeyboard 3, add BiteYourApple repo to your Cydia then you can download it. AltKeyboard 2 is not a free app but it is definitely worth for the price you pay if you type more than 1,000 words in a day with your iOS device.
5. WhatsApp+
If you do notice, every app name with a "+" sign at the back signify it is a booster, so doest WhatsApp+. This app allows you to remove the double tick mark on Whatsapp. In addition, you can set a passcode or touched to lock your WhatsApps. This can prevent someone else from reading your messages secretly. To install this Cydia tweak, go to BigBoss repo and you can download WhatsApp+ for free. Using iPad? See also: Best Cydia sources for iPad.
6. Vine++
We have SaveGram for Instagramers and now we have Vine++ for Viners. Vine++ is a new Cydia app which was introduced no longer ago. The main feature of this app is to allow you to download any Vine videos you want to your iPhone, iPad or iPod Touch. On top of that, you can also off the autoplay feature in Vine. To install Vine++, go to BigBoss repo and you can download it for free to your iOS 8 devices.
7. Bytafont 2
Are you bored with all the standard font type? If so, try Bytafont 2. Bytafont 2 is an amazing app that provides you a bunch of fonts for a jailbroken iOS device. With this app installed, the default font on your iPhone or iPad can be replaced with any font type you prefer. On the other hand, you can download new font with this app too. To install this app for free, you will need to add the ModMyi repo.
8. CroppingScreen
CroppingScreen is definitely a very very very cool Cydia tweaks for iOS 7 and iOS 8 users. This app allows you to select any part of the screen you want to take a screen shot. With CroppingScreen, press the home button + the lock button together and then drag to select the area you want to take a screen shot. Such a great app is available to download from BigBoss repo for free.
9. Winterboard 
Winterboard has been mentioned again and again in Top Cydia Sources as well as other Cydia related websites. This is because Winterboard did an amazing job to allow iOS users to customize their iPhone or iPad. With Winterboard installed, you can change the look of your iOS device with customized themes, icons, backgrounds, docks and other mods. To install Winterboard to an iOS 8 device such as the iPhone 6 or iPhone 6 Plus, simply go to BigBoss and you can download it for free.
10. PrefDelete
When you no longer need a Cydia app, you want to delete it. Many people don't know how to delete Cydia apps. The traditional way is to go into Cydia and select the app then removes it. With PrefDelete, you can delete a Cydia tweak by tapping and holding the tweak name in Settings. PrefDelete is free to download from BigBoss repo so why not give it a try? There are so many apps available in BigBoss repo for free and that's one reason that the BigBoss repo is one of the best Cydia sources for iOS 8 – 8.1.
Love all the apps above? If so share it out to your social media! Also, you are welcome to leave a message here and tell us your opinion about the top Cydia tweaks list here.
advertisements