advertisements

Kuaiyong is now a piece of hot cake because it allows you to install free apps without jailbreak. In the past, many people are dying to know how to install Cydia without jailbreak because they want to download free apps but not willing to risk their iOS device. Today, this is no longer a concern because Kuaiyong allows you to install free apps for any non-jailbreak device. Free apps can be downloaded to an iOS device as long as it is available in the database of Kuaiyong. As Kuaiyong was founded in 2012 by Beijing YouRanTianDi, a technology company based in Beijing, it is now only available in Chinese version. Therefore, for those who want to know how to install Kuaiyong for pc, Mac, or any iOS device, the step by step tutorial here will be very useful for you. Buttons written in Chinese are translated and shown in the images. Free apps are just a few steps away!
How to Install Kuaiyong
Step 1: First of everything, you will have to download Kuaiyong setup file. Follow this link if you are downloading Kuaiyong for PC with Windows OS. Otherwise, follow this link to download Kuaiyong IPA file for Mac, iPhone, iPad, or iPod. This is currently the latest version which is 2.1.1.1. If you go to the official website of Kuaiyong, the download link is currently unavailable and all you can see is a non-clickable download button with a sentence saying "English Version (for Windows) is coming soon…"
Step 2: Once you have finished download the setup file, install it on your device. For PC version, go to your download folder, locate the .exe file and run the setup just like other application. For iOS device, install the IPA file on your device and Kuaiyong will be installed within a minute. That is! Installing Kuaiyong is as simple as install a normal app.
How to Use Kuaiyong
Click on the icon to launch Kuaiyong and this is what you will see. The big long search bar is where you search for the apps you want to install. The red button located in the search bar is a search button.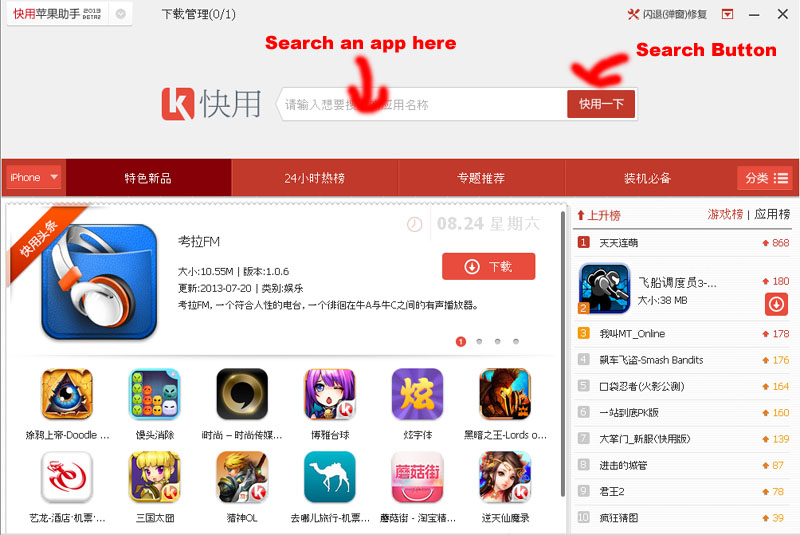 Kuaiyong Screenshot
Type in your desired app in the search box, for example, iBlacklist. If the app is available in Kuaiyong's library, it will be appeared. Hit the red download button and download will begin in a tenth of a second. Click on the Manage Download button as shown in the image below.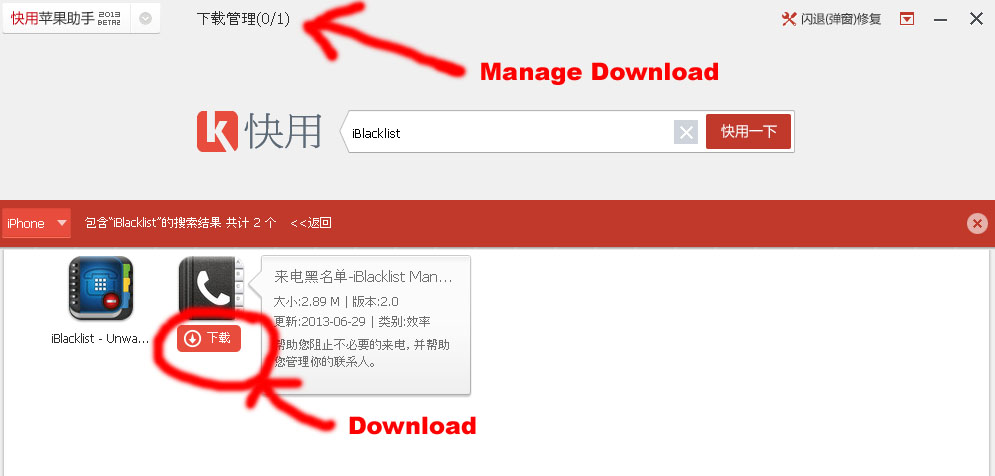 Now you will see all the downloaded apps in the page here. Click on the Install button to install each app. Thanks to its simplicity, Kuaiyong is now well recognize as one of the best Installous alternatives.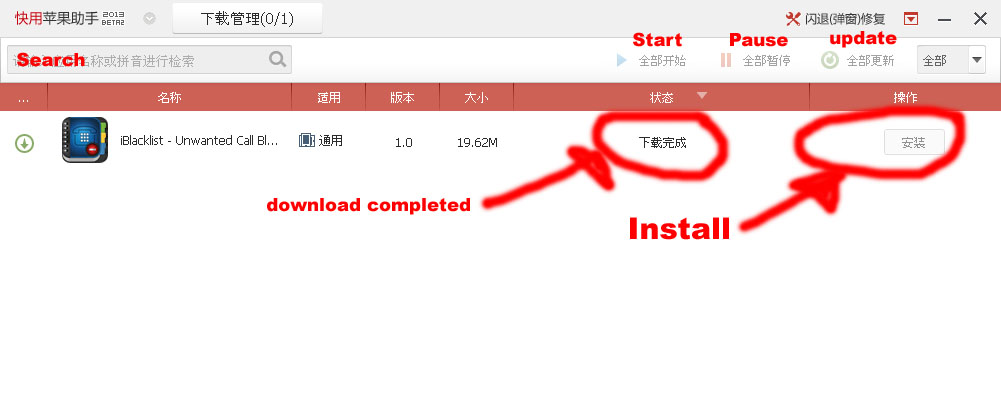 So far, we have tested Kuaiyong on iPhone 4S, iPhone 5, iPad, and other devices running on iOS 6. They work very well without any problem. You are welcome to leave a comment here if you have come across any problem or want to share something interesting thing about Kuaiyong.
advertisements