advertisements

So far, Kodi is one of the best XBMC alternatives you can find in Cydia App Store. Perhaps it is better to say Kodi is the replacement of XBMC because Kodi works exactly like XBMC. They are the same exact app but tagged with different names. Since XBMC is already a past, it is time to check out how to download and install Kodi on iPhone, iPad and Apple TV from Cydia.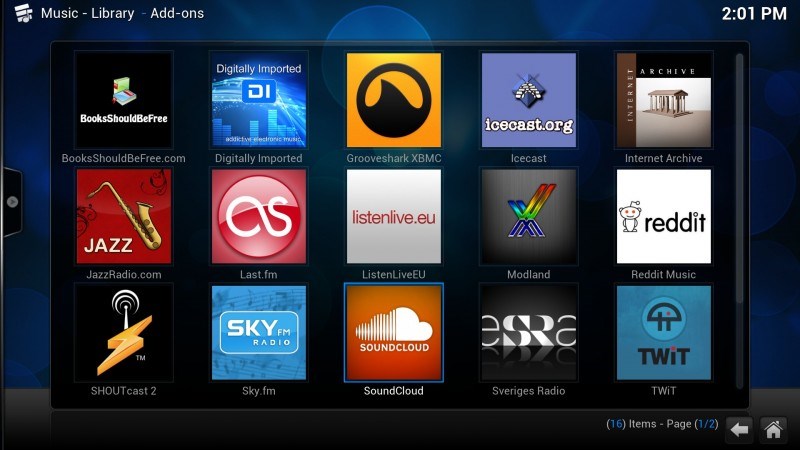 Kodi is open source home theatre software. It has the capability to turn your iOS device to a media powerhouse, media player or media hub. With Kodi installed, you can stream free OTA television or music with your iOS device. Kodi is free to be used but it requires a special way to install it on iOS 8 or iOS 9 devices. Jailbreak is a must because you need to add a Cydia Source for Kodi and then install it. Kodi works on iPhone, iPad, iPod Touch or Apple TV running iOS 4.3 through iOS 8.4 or higher iOS version. Therefore, you can use Kodi on the latest iPhone 6, iPad Air 2, iPad mini, iPod Touch or Apple TV without any problem. Kodi is one of the best choices you have if you want to turn your iOS device to a media player.
How to Install Kodi from Cydia
Before you begin, make sure you have jailbroken your iPhone, iPad, iPod Touch or Apple TV. For iOS 8 users, you can consider to use Pangu Jailbreak Tool to perform a jailbreak for free. Also, make sure you have already download Cydia to your iDevice.
Step 1: Tap on the Cydia icon on your homescreen to open it.
Step 2: Tap Manage -> Sources -> Edit ->Add. You will see a Enter Cydia/APT URL message box. See how to add a Cydia repo for more detail guide and pictures.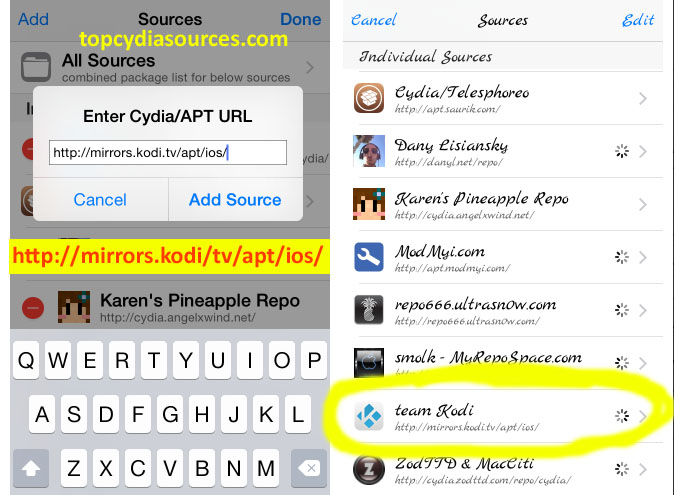 Step 3: Among all the Cydia sources for Kodi, http://mirrors.kodi/tv/apt/ios/ is the most reliable Cydia repo for Kodi TV app. Enter it and tap Add Source to continue the installation.
Step 4: Go to teamKodi source you have just added. Tap on All Packages and then tap Kodi-iOS.
Step 5: Tap Install and then Confirm.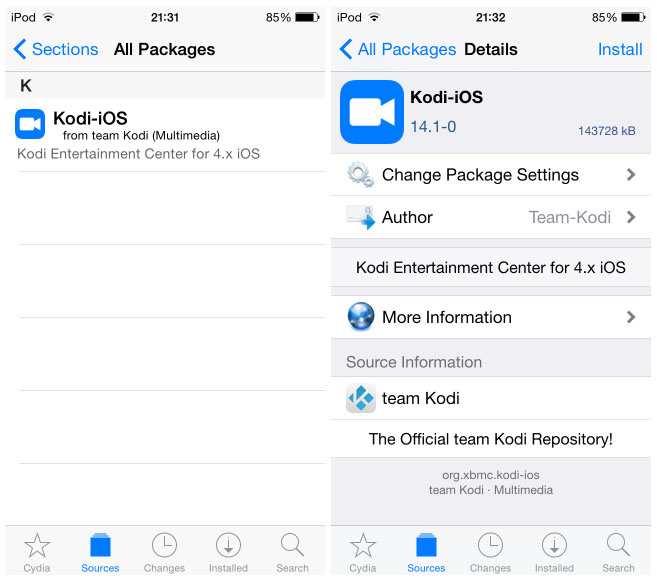 Step 6: The installation of Kodi will begin and let it run automatically. Once the installation is done, tap Return to Cydia. Bingo! You have just installed Kodi v14.2 Helix for iOS.
To update Kodi TV to the latest version, go to Cydia and check on the "Changes" section. Tap on Update if yours is not the newest version.
Kodi Compatible iOS Devices
iPhone: iPhone 4, iPhone 4S, iPhone 5, iPhone 5C, iPhone 5S, iPhone 6 and iPhone 6 Plus.
iPad: iPad 1, iPad 2, iPad 3, iPad 4, iPad Air, iPad Air 2, iPad Mini, iPad Mini 2 and iPad Mini 3.
iPod Touch: iPod Touch 1 to iPod Touch 5.
Apple TV: Apple TV 1, Apple TV 2, Apple TV 3.
Apple Watch: Apple Watch, Apple Watch Sport, Apple Watch Edition.
See also: Cydia Sources for Game Hacks, Best Cydia Sources for iOS 8 – 8.1 and Best Cydia Sources for iPad, iPad Air and iPad Mini.
Have you ever used Kodi or XBMC on iOS before? How does it work for you? Do not shy to share your thoughts and experience in the comment features below. Your words are important to iOS users who are new to Kodi TV. Please mention also the iOS device and iOS version you are using with Kodi or XBMC.
advertisements