advertisements

In this article you will learn how to add the real Cydia sources for Clash of Clans Hack tool for free. With the right hack tool for Clash of Clans, you can have unlimited gold, unlimited elixer and unlimited dark elixer. In other words, you can have Clash of Clans gems, gems ifile, mod, and cheat in one package. You can have any desired amount of power you want so that you can attack your enemy and conquer them. Couldn't wait to have these Clash of Clans hack? No worry, the tutorial is just after the jump.
How to Add Cydia Sources for Clash of Clans
Before you begin, it is important to know that Clash of Clans hack is only work on a jailbroken iPhone, iPad, and iPod Touch. It has been tested on iPhone 6, iPhone 6 Plus, and iPad Air 2. Any devices with iOS 8.0, iOS 8.1, iOS 8.2, or iOS 7.x will be able to use these hacks.
Step 1: Jailbreak your iOS device and download Cydia on it. You may refer to our previous article on how to download Cydia on iOS 7 if you are still using iOS 7. For iOS 8 users, you can use Pangu Jailbreak tool to jailbreak and download Cydia on iOS 8 devices.
Step 2: Tap on the brown Cydia icon to lauch Cydia. At the bottom of Cydia home screen, tap Manage. You will see 3 buttons appear at this page, tap on Sources to continue.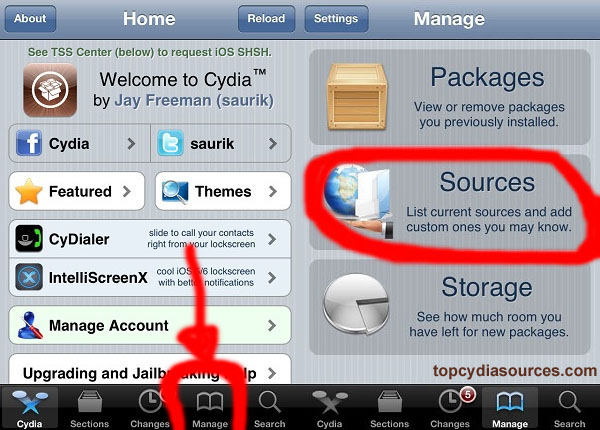 Step 3: On the top right, tap on Edit and then Add button. You will be prompt a message box "Enter Cydia/APT URL". This is where you need to enter the Cydia sources for Clash of Clans hack. Enter and tap on Add Source.
Step 4: Cydia will now verify the repo URL. Tap on Add Anyway if a warning message appears. Cydia will download all the data from xmodgame and you just have to wait a couple minutes.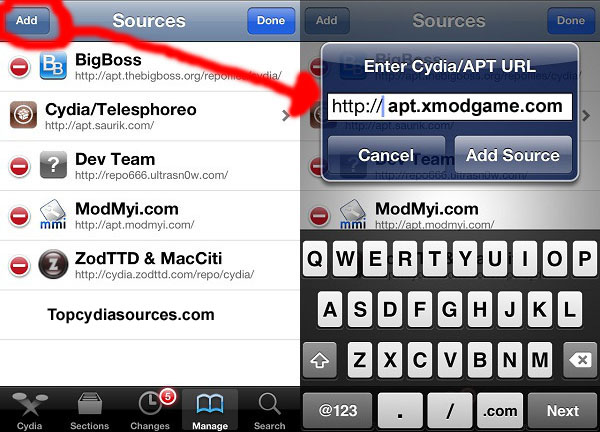 Step 5: Now go to the xmodegame repo and search for XModGames and install this app. You can then launch XModeGames and select Clash of Clans to install it. Open Clash of Clans once the installation is complete. Notice there will be an X on the side of the screen. All you need to do is to click on it to bring up the hack menu.
Using Clash of Clans Hacks
The hack menu is very simple and it is very straight forward to be used. Tap on the X while you are running Clash of Clans and the hack menu will be appeared. You can select Sandbox Mode in the hack menu. In Sandbox Mode, you can visit a base and attack will be begun on the base. The game will be crashed when the attack is over. This is just a simulation mode and nothing will be lost.
Other than Sandbox Mode, you can also select the Keep Active mode. Keep Active mode helps your Clash of Clans game to stay active all the time. With this mode enabled, nobody can attack you. Besides, you can also try other mode available in the Clash of Clans hacks such as Meet All The Conditions or Search Switch.
Alternatives Cydia Sources for Clash of Clans Hack: xxAssistant (This tweak is free but it is not available in English version). Besides, you have to check out the best Cydia sources for game hacks.
Last but not least, please feel free to leave a comment and let us know what you think about this Cydia sources.
advertisements