advertisements

iOS 9.0.2 jailbreak is already stable. For those who have been using Cydia on iPhone, iPad and iPod Touch that are running with iOS 9, you should check out the top 10 best Cydia tweaks for iOS 9.0.2. The 10 chosen apps are very useful for iPhone and iPad users because they are able to save your time by giving you some rich features.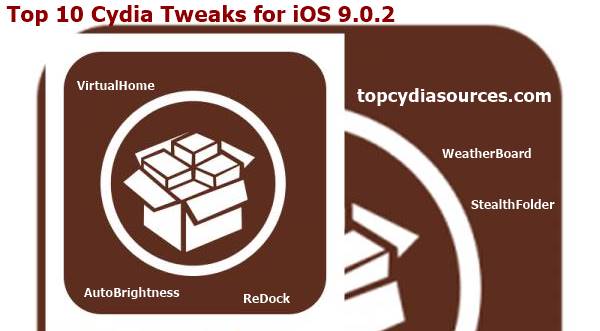 1. VirtualHome: This is the perfect Cydia tweak to be used on the latest iPhone and iPad that comes with Touch ID feature. It allows you to do many things without tapping the home button. For example, you can access app switcher with VirtualHome using Touch ID. There is no need to tap the Home button at all. To install VirtualHome Cydia tweak, simply go to BigBoss repo and you can get it for free.
2. Forcy: This is perhaps the best 3D Touch Cydia tweaks for all iPhone and iPad users. Other than iPhone 6S Plus, iPhone 6S and iPad Pro, many older iOS devices do not come with 3D Touch quick actions and features. In this case, Forcy is a good Cydia app for people who are using iPhone 4S, iPhone 5, iPhone 5S or iPhone 6.
3. Tatton: Nobody likes to use a slow smartphone or tablet. If you ever feel your iPhone or iPad is slow for you, try Tatton. Tatton is one of the best Cydia tweaks that is able to make your iPhone run faster. It is like a turbocharger to make your iOS 9.0.2 device to run at the highest level.
4. StealthFolder: This Cydia tweak doesn't make your iPhone or iPad run faster but it is capable to hide your important folders. With StealthFolder installed, you can makes any folder in your iPhone to become invisible. So far, this is the best Cydia apps for privacy and customization.
5. vShare: It's not just an app, it is an app that brings you a lot of apps. Get vShare on your iOS 9.0.2 device and you will feel the jailbreak world is so wonderful. There are many paid apps, games and tweaks available in vShare for free. Alternatively, you can also try Kuaiyong.
6. ReDock: Download ReDock Cydia tweak if you want to customize dock on iPhone, iPad or iPod Touch that is running iOS 9.0.2. You can add all your apps on your dock and then swipe to access quick apps from your dock. This is amazing, isn't it?
7. WeatherBoard 2: By reading the name of the app, you should know that WeatherBoard 2 is an app that gives you all the cool weather themes and effects on your iOS 9 devices.
8. AppCake: For many generations, AppCake is well-known as one of the best Installous alternatives. It covers almost everything you want in Installous. In addition to that, you can also install cracked apps and games on iOS 9 without jailbreak via AppCake.
9. Cercube: Have you ever wondered how to download YouTube videos to your iPhone or iPad? With a jailbreak app called Cercube, you can do it with just a click. Cercube is now support iOS 9.0.2. All you need to do is jailbreak your iOS 9 device and then install Cercube from Cydia App Store.
10. AutoBrightness: There are many iPhone users keep complaining their battery power. Try to use AutoBrightness if you often feel your battery power is not enough. This app is specially made to increase the battery life of an iOS device. It reduce your iPhone's brightness to the lowest or highest level based on preferences, thus, it helps to increase the battery life.
advertisements