advertisements

Here you can get a free guide to download Cydia to the latest iPhone, iPad Pro, iPod Touch, Apple Watch or any other iOS device. All you need to do is follow the step by step guide to jailbreak and then download Cydia properly according to your iOS version. It is vital to check your iOS version before jailbreaking it because every iOS version requires a different jailbreak method. The method to install Cydia to iOS 9 is slightly different with the method we used on iOS 8.4. Check your iOS version and then you can follow the complete tutorial here to download Cydia within 10 minutes.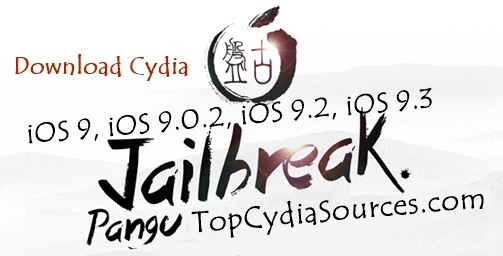 Download Cydia iOS 9
iOS 9 is currently the newest iOS version. The jailbreak for iOS 9 to iOS 9.0.2 is already available and stable. You can jailbreak and download Cydia to your iPhone 6S Plus, iPhone 6S, iPhone 6, iPhone 5S, iPad Pro or any other iOS 9.0.2 devices with Pangu Jailbreak Tools. Once you are jailbroken with Cydia installed, you can add the best Cydia sources for iPad or Cydia sources 2015 and start enjoying all the free apps.
Step 1: The first thing to do is, backup. Use iTunes to back up your iPhone or iPad to your computer.
Step 2: Go to Settings -> iCloud -> Find My iPhone/Find My iPad. Disable it.
Step 3: Go to Settings -> Touch ID & Passcode. Disable it.
Step 4: Connect your iOS 9 device to your computer or Mac using USB cable. Enable Airplane mode on your iPhone via Control Center.
Step 5: Now you need to download Pangu Jailbreak Tools from Pangu.io. Launch it after the download is completed.
Step 6: Hit the Start button after Pangu detected your iOS 9 device. The latest Pangu Jailbreak Tools is able to jailbreak any iOS 9.0.2 device.
Step 7: Hit "Already backup" button to continue and Pangu will reboot your iOS 9 device. Put your iOS 9 device into airplane mode again and the jailbreak will continue.
Step 8: Within a few minutes, Pangu will download Cydia to your iOS 9 device and your iDevice will be jailbroken. So far, this is the easiest free way to jailbreak and install Cydia to iOS 9. Now you should add some of the best Cydia sources for iOS 9 to get free Cydia tweaks for iOS 9.
Download Cydia iOS 8
For those who are using iOS 8.4.1, iOS 8.4, iOS 8.3, iOS 8.2, iOS 8.1.3 or any iOS 8 devices, it is recommended to use TaiG Jailbreak Tools to jailbreak and download Cydia to it. TaiG is without doubt the best jailbreak tool for iOS 8.4 because it is capable to jailbreak Apple Watch too. It is extremely easy to use TaiG to jailbreak iOS 8.1.2 to iOS 8.4. On the other hand, you can also follow the guide here to jailbreak iOS 8.0-8.1 with Pangu Jailbreak iOS 8.
Download Cydia iOS 7
For iOS 7.1.2 jailbreak, Pangu iOS 7 jailbreak tool is a good choice. It supports iOS 7.1-7.1.x. iPad, iPad Air, iPad Mini, iPhone 5S, iPhone 5C, iPhone 5, iPhone 4S, iPhone 4, iPod Touch and many iOS 7.1.2 devices have been tested with Pangu iOS 7. For detail tutorial, see download Cydia on iOS 7.
See also: Top 10 Cydia Tweaks for iOS 9.
advertisements