advertisements

It is a must to learn the easiest method to download Cydia on iPhone 4 and iPhone 4S. No one wants to walk the longer path if there is a shorter way. The tutorial given here works on iPhone 4 and 4S that runs on iOS 5, iOS 6, iOS 7, as well as iOS 8 (once the iOS 8 jailbreak is available). Well, there are a few methods where oneself can download and install Cydia to iPhone 4. It is up to you to select any of the given methods here. Most of them are free methods while some of them come with a little cost.
Download Cydia on iPhone 4 Automatically with Jailbreak Apps
As mentioned above, there are some easy methods available for lazy persons. Using these methods you can install Cydia automatically during the jailbreak process. It requires no computer or Apple knowledge to get Cydia on your iPhone 4. The only thing you need to do is follow the instruction and tap on Next and Confirm buttons. You need to reinstall Cydia but not jailbreak if you already jailbreak but couldn't find Cydia in your springboard.
Evasi0n7 – Evasi0n7 is one of the most popular jailbreak programs for iPhone 4 that runs on iOS 7 in the market today. It is a free jailbreak tool for jailbreak iPhone 4, iPhone 4S, iPhone 5, and iPhone 6. You will be able to see Cydia Store in your iPhone 4 after the jailbreak. It is one of the easiest ways to download Cydia to an iPhone 4.
Pangu – Pangu jailbreak works best on iOS 7.1, iOS 7.1.1 and iOS 7.1.2 and it is one of the most well-liked jailbreak tools in the market. Just like Evasi0n, Pangu is able to jailbreak iPhone 4, iPhone 4S, iPad, iPod Touch, and other iPhone models using a safe method. You will get Cydia and afc2 by default after the jailbreak.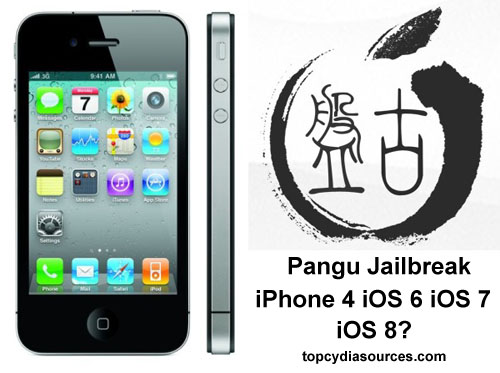 Redsn0w – For those who are using iPhone 4 with iOS 6, iOS 6.1.3, iOS 6.1.4, and iOS 7, you should really try Redsn0w jailbreak. Redsn0w is a multi-platform jailbreak and unlock tool and it is extremely easy to use. Again, you will be able to download Cydia automatically after the jailbreak.
Download and Install Cydia on iPhone 4 & 4S Manually
The step by step guide given here is great for those who want to learn how to download and install Cydia on iPhone 4 and 4S manually. This is very useful for anyone especially those who run a mobile phone store that helps their customers on iPhone 4 jailbreak.
Step 1: First of all, prepare a computer. It can be a Mac or Windows. Go to Google and search for a SFTP program. Download and install it to your computer. There are a few good SFTP programs and you can select one among them, for example, FireFTP, Filezilla, CoreFTP LE, WinSCP, and others.
Step 2: Make sure you already jailbreak your iPhone 4 otherwise it won't work. Up till today, there is no way to download Cydia without jailbreak. Cydia won't open after the installation if your iPhone is not jailbroken.
Step 3: Now go to Cydia official website apt.saurik.com/cydia/debs/ and download the Cydia DEB file. Use Ctrl + F and search for "Cydia". You will see a lot of cydia files such as cydia 1.1.6-ios6 iphoneos-arm.deb, cydia 1.1.9 iphoneos-arm.deb. Make sure you download the latest Cydia version.
Step 4: Connect your iPhone 4 with your PC or Mac and use the SFTP program you download in Step 1 to SSH the Cydia DEB file to your iPhone at the path /private/var/mobile/documents/. Create the path if you don't see it in your iPhone.
Step 5: Access to the path from your iPhone 4 once the DEB file is transferred. Tap on it and then tap Installer. Reboot your iPhone once the installation is done. That's it! That's how you can download Cydia on iPhone 4 manually. Well, it is time to check out the top 10 Cydia sources and look for more cracked apps.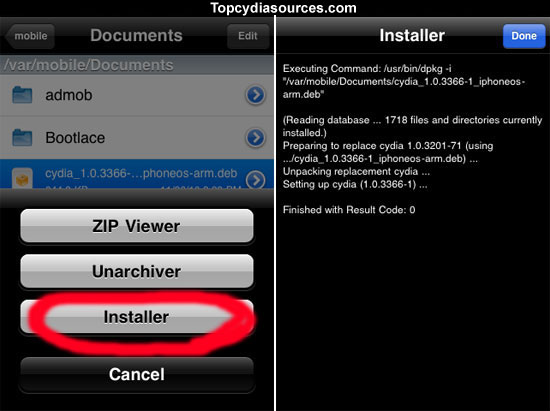 None of the method above work for you? Face any problem when you try to install Cydia on an iPhone 4? Please use the comment function below to share us your problem. There are readers from all around the world will help you to solve you problems.
advertisements