advertisements

No matter who you are, no matter where you've come from, there are six awesome Cydia sources that you have to know. Since the jailbreak for iOS 7 is released, there more more and more people jailbreak their iOS device. The amount of jailbroken iPhone 4, iPhone 5, iPhone 5S, iPhone 5C, iPad, and iPod Touch is on the rise. This has proven that some Apple users willing to risk their iOS device in order to download cool Cydia apps and themes that couldn't find in Apple App Store. Before going through the awesome six, beginners who have just jailbreak and download Cydia to their iOS device may follow these steps to add a Cydia sources. This is a basic knowledge for users who know nothing about adding a Cydia sources.
How to Add Cydia Sources
Tap on Cydia logo from your home screen to open Cydia.
Tap on Manage.
Tap on Sources
Tap on Edit. Edit is a small button located on the top right.
Tap on Add. Add is another small button located on top left.
Enter your desire Cydia sources to Cydia/APT URL and then tap on Add Source.
For detail step by step guide, you may read how to add these popular Cydia repos: xSellize, MyWi, ModMyi, ZodTTD, and Sinful iPhone.
The Awesome Six Cydia Sources
iF0rce
There is not much of tweaks or mods available in iF0rce repo but it has a few really interesting apps. For example, AirBlue Sharing, AirBlue GPS, Siri0us, Sparrow Sharp, iBluever, and iTether. These apps has proven that iF0rce repo deserves a seat here.
PwnCenter
A lot of iOS users jailbreak their device because they want to download themes and icons. This is where they will end up. PwnCenter is one great Cydia repo that hosts a lot of themes, wallpaper, and ringtones but no special apps. To Add PwnCenter repo, the repo URL is http://apt.pwncenter.com.
iCauseFX
iCauseFX repo holds a bunch of apps and tweaks that gives you the power to customize your iPhone, iPad, or iPod Touch. Apps available in iCauseFX repo allows you to change your icons, logo, background, and more.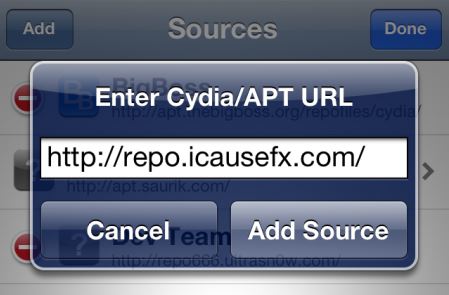 P0dulo
P0dulo is not a famous Cydia repository but still many people fall in love with it because it hosts a lot of high quality apps and tweaks. Besides, you can also find emulators and games from this repository.
HASHBANG Productions
Not many people know about HASBANG Productions repo due to the number of apps and tweaks available. However, it is worth to for those who want to try a new app while developers are still implementing it.
Pushfix
If you like apps like FaceClockUp or RecoveryGuard, Pushfix is a must-have Cydia source in your iDevice. Pushfix repo has been in the market for quite some time but it still provides good apps for iPhone users.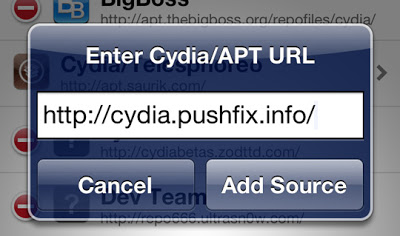 The above six Cydia Sources seldom mentioned because they are not so popular compared to the Top 10 Cydia Sources. However, they do have something very special isn't? Check these out if you want more: Best Cydia Sources to Install Cracked Apps, Good Cydia Sources for iPhone 4.
advertisements