advertisements

This is a complete universal tutorial for iOS users who want to know how to bypass iCloud Activation Lock on iPhone, iPad, and iPod Touch with iOS 7, 7.1.1 or later version. For those who have just upgraded your iOS device from iOS 6 to iOS 7, you might not know that Activation Lock is a new feature comes with Find My iPhone. Activation Lock will turn on automatically when an iPhone user turns on Find My iPhone. This is definitely a great feature Apple introduced for iOS 7.
On the other hand, there are situation where you need to bypass activation lock on an iOS 7 or 7.1 device, for example, when you forget about your Apple ID and password. It is nearly impossible to recover the password due to the restriction set by Apple. Therefore, the only way is to remove the iCloud Activation Lock or bypass it. It sounds like a complicated process but you can do it easily with the following step by step guide within 5 minutes.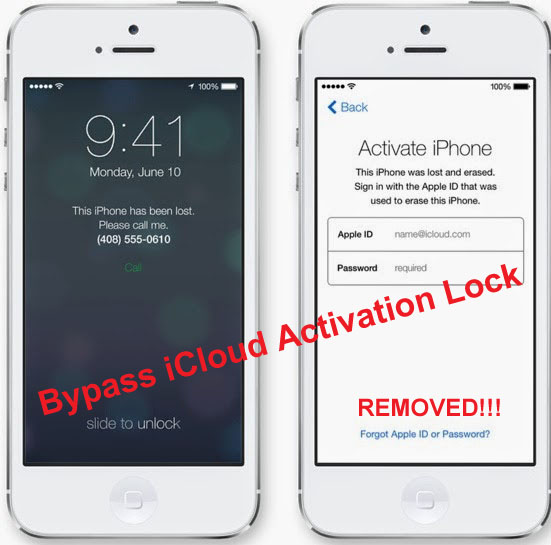 How to Bypass iCloud Activation Lock on iOS 7
In order to bypass iCloud Activation Lock, you will need a hack tool. This hacker tool has been tested on iPhone 5, 5S, 5C, iPad, mini iPad, and iPod Touch. It is free to download and it works flawlessly.
Step 1: Download the hacker tool Bypass iCloud iPhone Tool at this link. Unzip the file and click on it to begin the installation.
Step 2: Put your iPhone into DFU (Device Firmware Upgrade) mode and connect it with your computer using a USB cable.
Step 3: Allow the Bypass iCloud iPhone Tool to read your device. This will take a few seconds. Click on the "Start" button once the program shows your device.
Step 4: Select your device from the available list and click "Next" to continue.
Step 5: Click on "Bypass NOW". The entire process will take about 30 minutes or less. Your iPhone will be rebooted automatically once it is completed. You can then set up the iPhone again just a newly bought one. That is how you can bypass an iOS 7 Activation Lock.
Bypass iOS 7 Activation Lock (Supported iOS Devices)
So far, these are the iOS 7 devices that works with the hacker tools recommended above.
iPhone 5
iPhone 5S
iPhone 5C
iPhone 4S
iPhone 4
iPhone 3GS
iPad or Mini iPad
iPod Touch
With the steps given above, you can bypass iOS 7 Activation Lock easily if you pickup someone else iPhone, iPad, or iPod Touch even they set up Find My iPhone. This is a free tool to remove Activation Lock on iOS 7. It supports all iOS version include iOS 7. Besides, this tool also allows you to activate device and install Cydia. Please use the comment box below to let us know if it works for you or if you face any problem during the bypass process. Last but not least, please use the bypass iCloud Activation Lock tutorial in a proper way.
advertisements