advertisements

It could never been easier to download vShare and install free apps to your iOS devices. This is because vShare has achieved simplicity in design and it is well-known for the best Installous alternative since Installous is out of service. As vShare is not as famous as Installous, many jailbreak users who have not heard of vShare will usually pop the question "Is vShare safe to install vShare to my device?" This is understandable since an unstable jailbreak app can crash an iPhone, iPad, or iPod Touch easily. However, there is nothing to worry because the latest vShare version is already stable and it works very well on any iOS devices with iOS 4.3 and above. So, if you are ready to download and install vShare, the step by step tutorial here is what you need.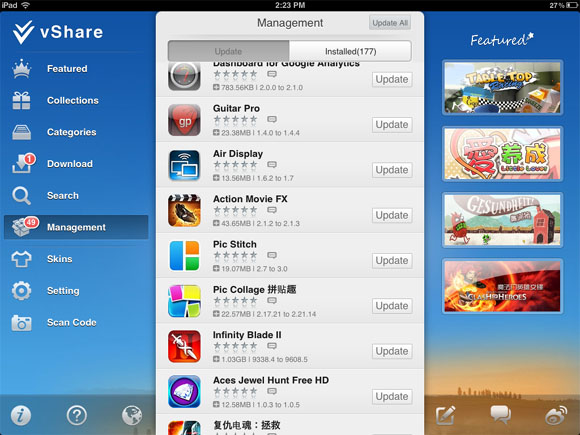 How to Download vShare
Step 1: First of all, jailbreak your iDevice if you haven't do so. It is IMPOSSIBLE to download vShare to a non-jailbreak iDevice. After that, make sure Cydia and AppSync are installed too.
Step 2: Open your Cydia and go to Manage -> Sources -> Edit -> Add. A dialogue box will be appeared and you are required to enter Cydia repo of vShare. Enter http://repo.appvv.com to the text box and then click on the Add Source button. Your iDevice will then verify the URL and a source warning message will pop up. Click Add Anyway and the installation of the repo will start to run. Click Return to Cydia once the repo installation is completed.
Step 3: Now go back to the repo you have just installed and search for vShare. Click on it and it will be installed to your iDevice in less than 30 seconds. Check your internet connection if the process to download vShare is failed or it takes longer than usual.
Common vShare problems
Remember to reboot your iDevice every time a new app is installed. Otherwise you may face one of these common problems:
vShare crashes on start or failed to run
vShare apps are not downloading even you have clicked on it
Installed apps quit or crash a second after you launch it
Installed app won't run and the screen flashes a few times
Best Free Apps on vShare
Congratulations if you have vShare ready on your iDevice. Here is a delicious list of top free apps from vShare which constantly receive good ratings from vShare users around the world.
Escape If You Can
Dumb Ways to Die
Snapchat
Running with Friends
Kik Messenger
Pandora Radio
Spotify
Netflix
Fandango Movies
InstaFrame
Other than installing the best app, vShare also allows you to update all the installed apps with just one click. Simple hit the update button and vShare will get them updated in a few seconds.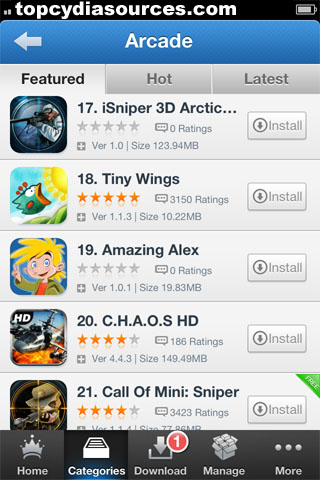 Alternatives to vShare: Installous (it has been shut down), AppCake, and Apptrackr. These three are currently the best apps that are similar to vShare.
There are many other Cydia sources which allow you to install cracked apps, however, we highly recommend you to make good use of vShare or other alternatives. Use it when you want to try out an app before buying it. Buy it once you have tried it and give support to the developers who have spent a lot of effort to build the apps.
advertisements