advertisements

After so many years, BigBoss repo is still the best Cydia repos among all the top Cydia sources. Don't you think this Cydia repository must have something that others don't? What makes it so special that people keep mentioning BigBoss repo? We are definitely not exaggerating. BigBoss repo has been mentioned again and again in many Cydia related websites. In addition, it is one of the default Cydia sources which means anyone who jailbreak and download Cydia to their iPhone 6, iPhone 5/5S, iPhone 4, iPad, or iPod Touch will get BigBoss repo automatically. It is not necessary to add BigBoss repo URL to enjoy all the apps hosted by this Cydia source.
Speaking about the number of apps available in this Cydia repo, BigBoss covers thousands of apps, tweaks, themes, icons, wallpapers, and many other things that an iOS user needs to customize their iPhone 6, new iPad, and iPod Touch. The number of apps is what makes BigBoss number one most wanted repository.
Most Popular Apps in BigBoss Repo
For those who is new to jailbreak and Cydia, you might want to try out some of the most popular apps available in BigBoss repo.
Winterboard – Winterboard allows you to customize the look of your iOS device which Apple doesn't. You can download free wallpapers, themes, and icons from this app.
iBlacklist – This app allows you to block any unwanted calls or SMS. You can also set auto reply for blocked calls.
Folder Enhancer
Flashlight – You no longer need to carry a flashlight if you have this app installed in your iPhone 6.
Bigboss Alternatives or Competitors: ModMyi, iSpazio, ZodTTD, and STE Packaging.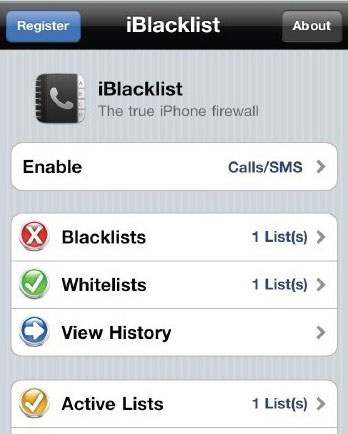 iBlacklist – One of the best Cydia apps available in BigBoss Repo
How to Restore BigBoss Repo
Just in case you delete or remove this repository by mistake, you can always restore it or add it with the steps below. It takes less than 5 minutes to do it.
Method 1 – The Easiest Way
Open Cydia and tap on More Package Sources.
You will see a list of the default Cydia sources here. Look for BigBoss and tap on it. There will be an icon showing it is not installed.
Tap OK when you are prompt with a warning message. Return to your Cydia and you will see BigBoss is added.

BigBoss Repo URL
Method 2 – The More Complicated Way
You may follow the second method here to add BigBoss repo to a jailbreak iOS device just in case the above method is not working for you.
Open Cydia and go to Manage -> Sources -> Edit -> Add.
You will be prompt to enter the Cydia Repo URL you want to add. There are a few BigBoss repo URL available but the one that is highly recommended is http://apt.bigboss.org/.
Enter the Repo URL to the text box and tap on the Add Source button.
Give your iOS device a few seconds to add the repo. Return to your Cydia -> Manage -> Sources and you should be able to see BigBoss repo there.
advertisements