advertisements

iAPFree iOS 7 is the best in-app purchases installer available in the market today. Imagine that you can download In-App purchases for free and get any paid apps you want from App Store for free, how good it is? This is already happening to some jailbreak users who are using iAPFree app.
There are more than a thousand paid apps available for sale in the App Store but often we do not know which one is good. No one wants to waste the money although paid apps cost only a few dollars. Therefore, if you really want to try an app or game before buying it from App Store, iAPFree is a good app you should consider install to your iOS 7 device. It works on iOS 6 as well as iOS 5 too.
How to Install iAPFree
The tutorial here is about how to install iAPFree on a jailbroken iOS device. It works on iPhone 5S, 5C, iPhone 4/4S, iPad 2, iPad 3, iPad 4, iPad Air, iPad Mini, as well as iPod Touch as long as the iOS version is iOS 4, 5, 6, or iOS 7.
Step 1: In order to install iAPFree, you will first have to jailbreak your iOS 7 device and download Cydia to it. iAPFree will not work on any non-jailbreak iOS device. Once you have jailbreak and install Cydia to your device, open Cydia and go to Manage -> Sources -> Edit -> Add. When the "Enter Cydia/APT URL" text box appear, you will need to add Sinful iPhone Repo. The address is http://sinfuliphonerepo.com/.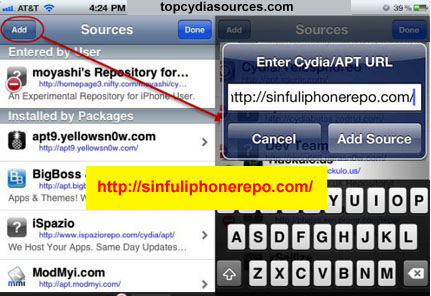 Step 2: Now go back to Cydia and make sure SinfuliPhone repo is added. Now go to SinfuliPhone repo and search for "iAPFree iOS 7". Tap on the app to install it right away. Look for iAPFree Core Plugin in the same Cydia repo section and install it. It is a must to install iAPFree Core Plugin because it is the main plugin to run iAPFree in your iOS device.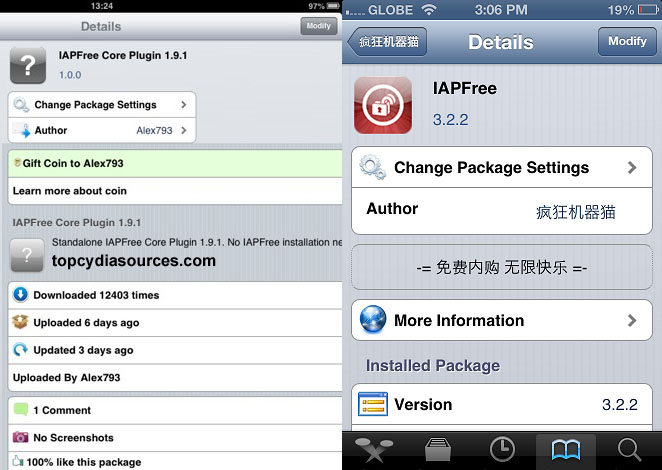 Step 3: Launch iAPFree app. Open any in-app app you want and click on the buy button to install it. If the in-app app or game installed successfully to your iOS device, it means iAPFree app is working properly.
iAPFree iOS 7 alternatives: Try iAP Cracker, HipStore, AppCake, LocaliAPStore, vShare, IPA Installer, IPAStore, IPASearch, Kuaiyong, or LocaliAPFree.
iAPFree is not Working
This is what you can do if you have followed all the steps above to install iAPFree but somehow it is not working.
Make sure you have installed iAPFree core plugin. The app won't work if there is no plugin installed in your device. Check also if the core plugin is the latest version. Make sure you download the lastest version.
Check if you have added the right iAPFree source or repo.
iAP Compatibility List
Check out the iAPFree compatibility list here if you are not sure which apps are working with it. This is not a complete list but they will be very helpful for you to download any free apps and games you want.
Adobe Photoshop Express
Afterlight
Allien Family
Angry Birds
Angry Zombies & Angry Zombies 2
Camera+
Cut the Rope 2
DragRacing
Doodle Jump
Flying Escape
GT Racing
Minecraft
Infinity Blade
Pinball Arcade
Six-Guns
Sports Illustrated Swimsuit
The Survival
Tiny Planet
Urban Crime
Where's My Water?
Please leave a comment if you have found any app or game that is compatible with iAPFree, we will add it to the compatibility list here. Last but not least, it is highly recommended to buy the apps or games after you tried it out.
advertisements