advertisements

With these top 3 Cydia ringtone maker tweaks from Cydia App Store, you can now make a free iPhone ringtone from any songs or music available in iPod library. Back in old days, we use a Mac or PC to cut a particular part of a song we want and then turn it into a ringtone. This process is tedious for the technology we have today. These days, all you need to do is pick one of the listed Cydia apps below and then use it to create any ringtone you want. You can pick any part of a song to become the ringtone, for example, introduction, verse, pre-chorus, chorus, bridge, or instrumental solo.
These ringtone makers available in Cydia have been tested and they work on iOS 7, iOS 6, as well as iOS 5. Hence, it won't be a problem to use any of them on an iPhone 5 or iPhone 5S with iOS 7. Kindly read the review here and follow the Cydia sources to download the tweak and then test it on your iPhone. Your dream iPhone ringtone is just a few tap away. Before you begin, remember to jailbreak and download Cydia otherwise you will not be able to download these apps.
UnlimTones
UnlimTones is one of the most excellent ringtone makers you can find in Cydia App Store. You can pick a song you want, upload to UnlimTones, and then use this app to make them into a ringtone for calls, SMS, Whatsapp alert, WeChat alert, or message alert. Unlike other ringtone makers, UnlimTones server hosts thousands of ready made ringtones and you can just search for the one you want. Customize it only if you really can't find the ringtone you want. It is extremely easy to use UnlimTones. Open the song you want with this app, play it, and then set the "Start Time" and "End Time" to get the part of the song you want. You will get your ringtone in no time.

AnyRing
AnyRing is another great Cydia tweak for ringtone searcher. This is not a free app. It costs $3.99 to download from Cydia App Store. AnyRing is compatible with iOS 7 and iOS 6 device. This tweak reads all kind of audio files including MP3, FLAC, AIFF, WAV, and many others. Since it reads WAV, you can use the microphone available in your iPhone to record any voice and turn them into ringtone. Besides, you can transfer the ringtone you made with AnyRing to any other iOS device through Bluetooh or network as long as they have AnyRing installed.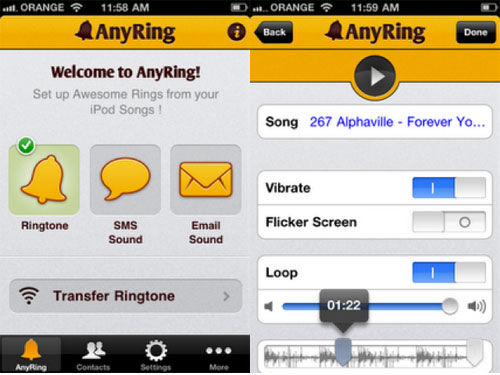 MyTones
If the above two Cydia tweaks don't work for you, try MyTones. MyTones is highly recommended because you can make ringtone with your iPhone. Simply download the music you want to your iPhone and then open it with MyTones. You can then edit the music or songs. MyTones allows you to set an interval of maximum 30 seconds. This means you can create a 30 seconds ringtone with this app with just one tap on the Make Ringtone button. MyTones is a free app and you can download it from BigBoss source for free. In case you delete BigBoss source by mistake, you can re-add it at http://apt.bigboss.org.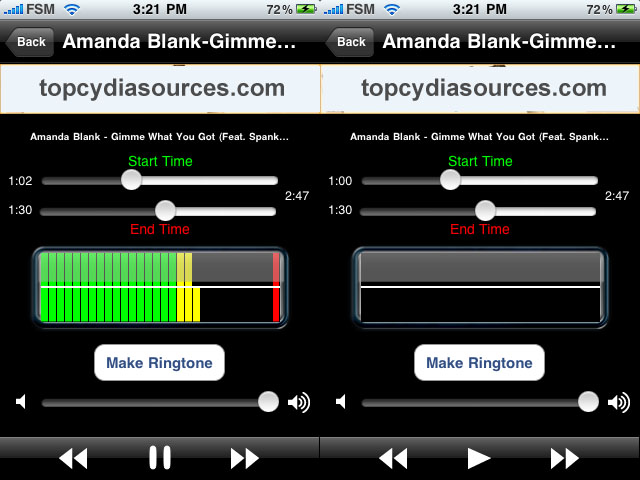 UnlimTones, AnyRing, and MyTones are currently the best 3 Cydia ringtone makers available on earth. They either work very well for you or simply don't work. Share your experience with us.
advertisements