advertisements

Pangu has recently released their latest jailbreak tools for iOS 9.2, iOS 9.2.1, iOS 9.3, iOS 9.3.1, iOS 9.3.2 and the latest iOS 9.3.3. Thousands of Apple users jailbreak their iPhone, iPad and iPod Touch in order to enjoy all the benefits Cydia brings to them. Once you are jailbroken, you can install cracked apps, games, themes, icons and many more. In addition, you can also customize your iPhone with a few unique Cydia apps or download free ringtones to your iOS devices. Moreover, a jailbreak user stand a chance to enjoy paid apps for free. If you are new to Cydia and would like to play around with your Apple devices, you need to know the best Cydia sources for iOS 9.3.3.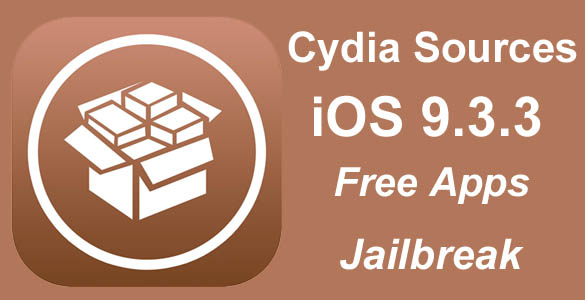 AppVV Repo
AppVV is a well-known Cydia source. It becomes popular because of vShare. vShare has been recognized as the best Installous alternative since Installous was shut down. There are many free iOS tweaks, mods and games can be download from vShare. vShare supports iOS 7.1.4, iOS 8.4, iOS 9.0 (see also vShare iOS 9), iOS 9.2.1 and now iOS 9.3.3.
AppVV Cydia Source: http://repo.appvv.com
HackYouriPhone Repo
In the past few years, HackYouriPhone has been voted as one of the best Cydia sources on earth. This is because this repository hosts a lot of awesome Cydia apps, tweaks and mods for iPhone, iPad and iPod Touch. This repo has a few Cydia tweaks that work perfectly with iOS 9.3.3, for example, iBlacklist, FolderEnhancer, iProtect, AdBlock, LinkTunes and many more. LinkTunes is a great source to download free songs from iTunes Store.
HackYouriPhone Cydia Source: http://repo.hackyouriphone.org
AppAddict Repo
Want to install free apps and games on your iPhone, iPad mini or other iOS 9.3.3 devices? If so, you need to add AppAddict repo to your Cydia. AppAddict is often considered as one of the best Installous alternatives. This repo is packed with the newest Cydia tweaks, mods, games for all kinds of iOS devices. You can find the latest Pokemon Go Hacks from AppAddict repo too.
AppAddict Cydia Source: http://appaddict.org/repo
AppSync Repo
AppSync itself is not a Cydia repository. However, it is a must-have app for all jailbroken devices. This is because AppSync sign all the cracked apps on your jailborken iOS 9.3.3 device. Without AppSync, it is impossible to run any cracked apps or games. There are many Cydia sources come with AppSync and you can add it within a minute. BiteYourApple repo, AppAddict repo, HackYouriPhone repo and AppVV repo are a few popular Cydia repos that hosts AppSync.
BigBoss Repo
BigBoss is one of the default Cydia sources. You will have this repo in your Cydia after you jailbreak iOS 9.3.3 with Pangu Jailbreak Tool. From A to Z, BigBoss provides tons of high quality apps, mods, games, and tweaks to all Cydia users. There are also many useful paid jailbreak apps available in this repo.
BigBoss Cydia Source: http://apt.bigboss.org
xModGame Repo
xModGame is a third party Cydia source. This repo doesn't has many new apps or tweaks for iOS 9.3.3 but it allows you to play Clash of Clans on a jailbroken device. This repo also features a few Clash of Clans Hacks for Cydia users such as unlimited gold, unlimited elixir, unlimited dark elixer.
xModGame Cydia Source: http://apt.xmodgame.com
iPhoneCake Repo
iPhoneCake repo has a lot of apps and games for iOS 9.0-9.3.3. This repo hosts a very powerful app called AppCake. AppCake allows you to download many paid apps and games available in the App Store for free, for instances, you can install Infinity Blade II on iOS 9.3.3 for free.
iPhoneCake Cydia Source: http://cydia.iphonecake.com
25PP Repo
25PP Repo is another great source to hunt for cracked apps, games, mods and tweaks. This repo works on iPhone or iPad running with iOS 9.3.3. It works very similar to Kuaiyong but comes with an English version. 25PP works on iOS devices with or without jailbreak. However, non-jailbreak version has less apps compared to the jailbreak version.
25PP Cydia Source: http://apt.25pp.com
advertisements