advertisements

Thanks to its ability to allow jailbreak users to install free apps, it is not surprise to know that AppAddict is by now the most hunted app for Cydia users. With AppAddict, you can install free apps, cracked apps and free iPA files on any jailbroken iPhone (include iPhone 5, iPhone 6 and iPhone 6 Plus), iPad (include iPad Air and iPad mini) and iPod Touch. In this tutorial, you will be guide to download AppAddict repo to Cydia and how to use AppAddict.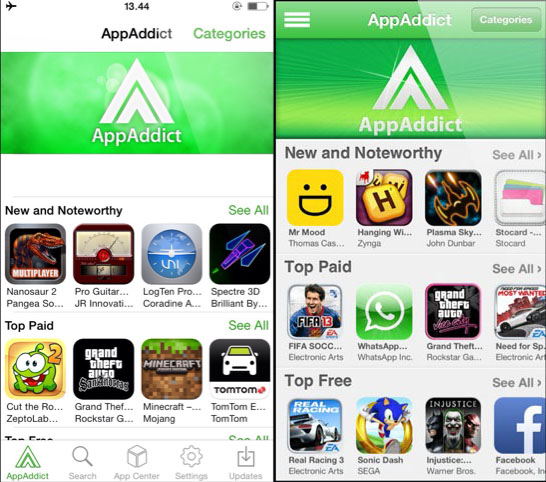 AppAddict Screenshot
How to Get AppAddict with Cydia
As the iOS 8.4 jailbreak is now available, you can install AppAddict to iOS 7.1.2, iOS 8.3, iOS 8.4, iOS 8.5 or even iOS 9 in the future.
Step 1: It is essential to know that AppAddict works only on jailbroken iOS devices. Therefore, the first thing you need to do is to jailbreak and download Cydia to your iOS device. For iOS 8.4 users, you can use TaiG jailbreak tool to jailbreak it. Instead, you can use Pangu Jailbreak Tool to jailbreak iOS 8 or iOS 8.1 devices.
Step 2: Tap on the Cydia icon (in brown color) and tap on Manage button when you landed to "Welcome to Cydia" page. See how to add a Cydia repo for more details with images.
Step 3: You will see Packages, Sources and Storage. Tap on the Sources.
Step 4: Tap Edit button and then tap Add button.
Step 5: Cydia will bring up a message "Enter Cydia/APT URL". This is the place that you need to enter AppAddict repo and add to your Cydia. Currently, there are a few repo is hosting AppAddict but the most recommended one is always http://appaddict.org/repo. It is the safest Cydia repo for AppAddict app. Tap Add Source and you will add AppAddict repo within a few seconds.
Step 6: Now go to Cydia -> Sources and tap on AppAddict repo. Search for AppAddict 4 or the newest version that is compatible with your iOS version. Tap on the install button to install it. Bingo! That's how you install AppAddict for free through Cydia.
For any reason you want to try AppAddict Alternatives, here they are: AppCake, AppDora, iPAStore, iAP Patcher, Zeusmos, vShare, Kuaiyong and Installous alternatives.
AppAddict Not Working
AppAddict not working usually due to a few reasons:
You don't have AppSync installed in your iPhone, iPad or iPod Touch. AppAddict won't work without AppSync so it is a must to get AppSync in order to use AppAddict.
Your internet connection is down when you try to add AppAddict repo.
Your internet connection is down when you try to install AppAddict.
You download the wrong version that is incompatible with your iOS.
You have not jailbreak your iOS device.
AppAddict is still not working for you? Leave a message here and we will get back to you as soon as possible. Otherwise, you can go to AppAddict forum to find the answers you want if you are 100% confirmed you have followed the guide above to install AppAddict.
advertisements