advertisements

LinkStore is one app that gives you the ability to install cracked apps to an iOS 7 device, for example, iPhone 5S, iPad, iPad Mini, or iPod Touch. Based on what we have in the market today, LinkStore is one of the best ways to download cracked apps. On and off, it is regarded as the best Installous alternatives due to its stability. For cracked apps finder, LinkStore is the perfect app that you should consider because it is free to be used. In other words, it is a reliable app that allows you to install paid apps for free directly from the App Store. Yes, it is directly from the App Store!
Read this carefully before you go through the steps below to install cracked apps from Cydia to your iOS 7 device: This website doesn't support pirated apps. This is purely a tutorial. The main purpose behind cracked apps is to allow a potential buyer to try an app they want to buy if there is no trial version. Please buy after trying it.
How to Install Paid Apps to iOS 7 using LinkStore
The purpose of improving technology is to make our life easier. Thus, the steps to install paid apps to iOS 7 device using LinkStore will be easy too. Besides iOS 7, iOS 6 and iOS 5 users can also follow these steps to install LinkStore to get cracked apps too.
Step 1: First thing to do, jailbreak your iOS 7 device. Once you have jailbreak your iOS device, download Cydia and install it to your device. Make sure everything run properly.
Step 2: Launch Cydia and tap on Manage -> Sources -> Edit -> Add. This is to add the Cydia source you need in order to install LinkStore. You will need to add HackYouriPhone source to your Cydia before you are able to install LinkStore. Enter http://repo.hackyouriphone.org when the Enter Cydia/APT URL message box appears. Tap on the "Add Source" button to continue.
Step 3: HackYouriPhone source should be added to your iOS 7 device now. Installing the AppSync iOS 7 is an inescapable step. Many jailbreak users made a big mistake because they install LinkStore without installing AppSync. LinkStore will not work without AppSync so it is a must to install AppSync. Search for AppSync in HackYouriPhone source. Make sure you install the correct version according to your iOS version. For instance, AppSync 7.0+ is for iOS 7.
Step 4: Now open HackYouriPhone repo again and search for LinkStore at the search box. Tap on it to install it. That's it! It is very easy to install LinkStore to iOS 7 through Cydia. Launch LinkStore now and try to search for any app you want. You can download any paid apps available in App Store without paying a single penny. Lastly, remember to delete the app if you don't feel like to buy it.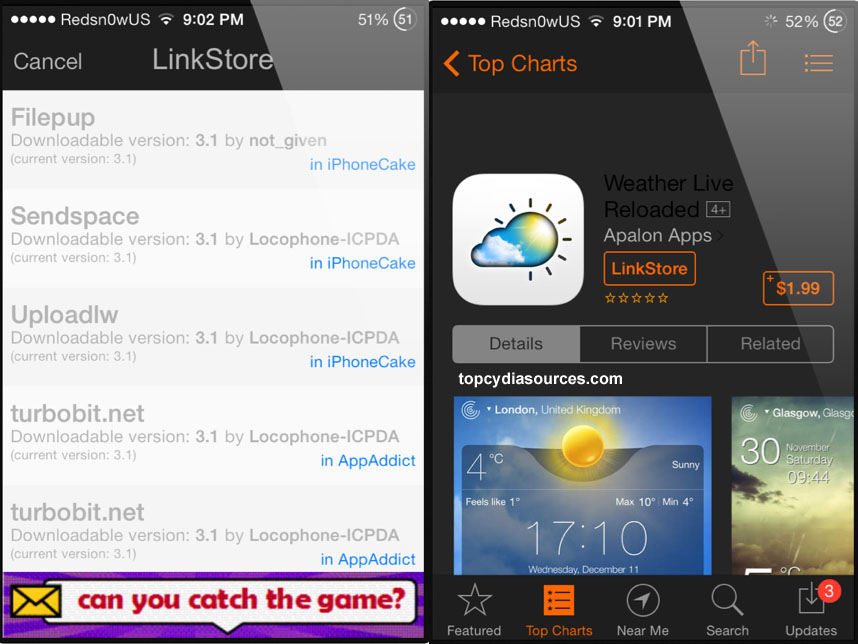 See also LinkStore alternatives which are also Installous alternatives: AppShape, iAPFree, iAP Cracker, HipStore, AppCake, LocaliAPStore, IPA Installer, IPAStore, IPASearch, Kuaiyong, vShare, and LocaliAPFree. If you have tried LinkStore and have something to say, say it out loud with the comment function below. Other than that, you can also share any thoughts you have about LinkStore.
advertisements