advertisements

In Top Cydia Sources, you will find all the Cydia repositories from 0 to 100 and from A to Z. You can also find all the important default Cydia sources such as BigBoss, ModMyi, iSpazio, ZodTTD & MacCiti, STE Packaging, and Telesphoreo Tangelo. On top of that, you also learned how to download cracked apps to a jailbroken iPhone, iPad, and iPod Touch using some unconventional apps such as LinkStore, AppSync, Kuaiyong, AppCake, Zeusmos, vShare, xSellize and more to be mentioned. Today, you will back to the basic and learn how to add a Cydia repo or how to add a Cydia source to iPhone, iPad, and iPod Touch.
Steps to Add a Cydia Repo
Be it an iPhone 6, iPhone 5/5S, iPhone 4, new iPad, iPod Touch, or any iOS devices, please make sure you have a jailbroken iOS device before you begin with the steps below. Also, please make sure you have download Cydia and see the popular brown Cydia logo in your springboard.
Step 1: Tap on the Cydia icon to open it. Tap on the Manage button located at the bottom of the Home screen. The Manage button is located beside the Search button.
Step 2: Now you should be able to see 3 main buttons at this page, they are Packages, Sources, and Storage. Tap on the Sources to continue.
Step 3: Tap on the Edit button located at the top right. There is a Manage button at the top left where you can go back to the previous screen.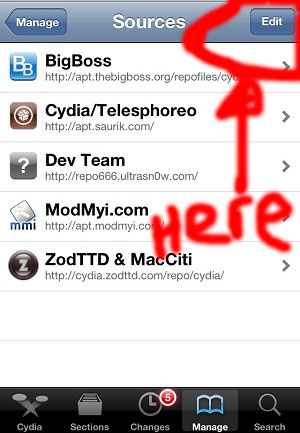 Step 4: At this page you will see a list of Cydia Sources or Repos which you already installed. Tap on the Add button on the top left. Cydia will pop a message box "Enter Cydia/APT URL". This is where you have to enter the Cydia repo URL you want to add, for example, http://repo.insanelyi.com/ for Insanelyi repo.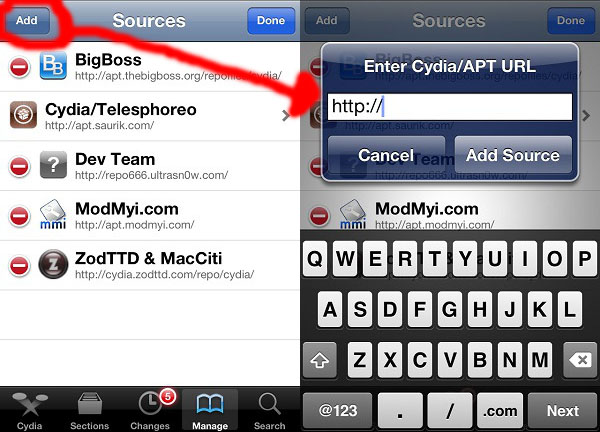 Step 5: Tap on Add Source once you have entered the repo URL. The URL will be verified by Cydia automatically and there is nothing you have to do but just wait for a few seconds until you see a Source Warning message from Cydia.
Step 6: The Source Warning message will only appear for some Cydia repo. Just tap on Add Anyway button if the message appears. Cydia will download all the data from the repo URL you provided. It takes just a few seconds and you will get the repo very fast.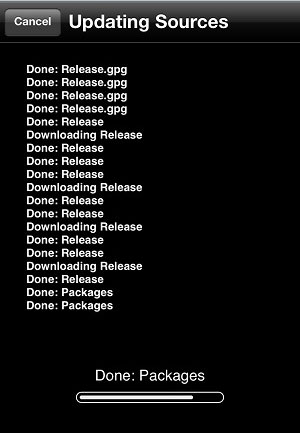 That's how to add a Cydia repo to iPhone, iPad, or iPod Touch with 6 easy steps. You can now go back to Cydia -> Manage -> Sources to check if the repo has been added successfully. Now you can practice again by selecting your favorite repos from the top 10 Cydia Sources list.
In case you can't connect your iOS device to a Wifi, you can add a Cydia repo from PC or computer manually. For step by step guide, see How to Add a Cydia Repo from PC. Last but not least, you may use the comment features below to share us your problem if you face any difficulty while adding a Cydia repo to your iOS device. The Cydia community here will be able to help you to solve your problem.
advertisements